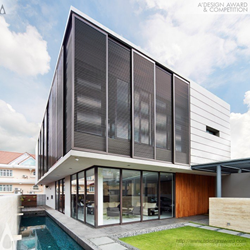 Como, Italy (PRWEB) July 29, 2014
A' International Design Award and Competitions is pleased to announce that the "Screen House" design by Hannan Khair and Kelvin Bing has been honored with the renowned Platinum A' Design Award in Architecture, Building and Structure Design Category.
More on Screen House
Hannan Khair, the lead designer of the awarded work Screen House said, "The existing house was dark and had poor cross ventilation. Therefore we proposed a new concept which not only had large windows but also be able filter the heat from the sun. The stairs of the building acts as an air-well with a skylight and ventilation vents.Thus improving the air circulation in the house and keeping it constantly cool. The screen on the external facade not only acts as shade from the sun but also giving a privacy for the user as the neighboring houses are built closely to each other." To learn more, visit: http://www.adesignaward.com/design.php?ID=34004.
Design Team for Screen House
Screen House was imagined by Hannan Khair and Kelvin Bing
The Platinum A' Design Award
The Platinum A' Design Award is a prestigious award given to top 1% percentile designs that has achieved an exemplary level of perfection in design. Entries to the A' International Design Award and Competition are peer reviewed and anonymously judged by an internationally influential, expert jury panel consisting of prominent media members, scholars and design professionals. The jury peer reviews and anonymously votes each entry based on predetermined evaluation criteria. Laureates of the A' Design Award & Competition are invited to join the award ceremony and gala-night in Italy to get the A' Design Prize which consists of classical items such as an award trophy, yearbook of best designs and a design excellence certificate in addition to public relations and publicity tools such as press release preparation and distribution in addition to inclusion in world design rankings, designers interviews and DesignAmid design magazine.
About A' Design Award and Competition
The A' Design Award and Competition has a mission to create a global awareness for good design practices, projects and principles by highlighting the very best design work from all countries. A' Design Competitions are organized in a wide array of design and architecture disciplines in order to push designers, engineers, developers and architects worldwide to come up with superior projects that benefit society. Learn more about the A' Design Awards by visiting: http://www.whatisadesignaward.com.