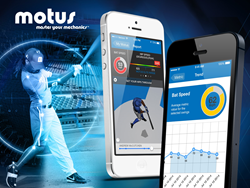 'Players everywhere, especially younger kids will have the ability to receive feedback from Motus, which they provide at the Lab. I would have loved to have this type of training tool when I was coming up,' said Andrew McCutchen, 2013 National League MVP.
Massapequa, NY (PRWEB) July 29, 2014
Making a case for a repeat of last season, reigning National League MVP Andrew McCutchen has teamed with Motus Global, a leader in biomechanics and athletic movement analysis, in development of a revolutionary new app that helps baseball players with batting mechanics.
Through partnerships with wearable device companies, Motus is breaking down the walls of their Lab and making its performance analysis tools used by the pros available to ballplayers across the globe. Teaming with the best pure hitter in the MLB today adds another level of expertise that baseball players across the world are searching for to enhance their skills.
"We couldn't be happier to have Andrew on board at Motus," said Joe Nolan, CEO at Motus. "He's arguably the best player in the game and genuinely the type of athlete and role model that kids should aspire to be. What's more rewarding to us, as a company is that 'Cutch' has worked with our technology hands-on and continues to come back. He saw the benefits of our Lab analyses and understands the value proposition we are able to offer the larger baseball community through the app and our ability to enhance wearable device data."
Players of all ages and ability now have the opportunity to download the Motus app at the App StoreSM. Once inside the Motus app, players will receive tips and training advice from McCutchen, the official baseball spokesperson for Motus Global. Each free download will automatically enter the player for a chance to win a trip to Motus' IMG Academy Lab for an analysis and meet and greet with McCutchen.
"Nobody wants to get caught in the trap where there is too much data and you end up with paralysis through analysis, but Motus has been able to create a great platform that takes such complex information and makes it actionable in a way that athletes can incorporate into their training," said Andrew McCutchen, Pittsburgh Pirates Center Fielder.
When McCutchen learned about the release of Motus' mobile app, he became even more excited and shared this: "Working with the Motus team at their Lab is a great experience but not always accessible for every ballplayer. That's why the mobile app is so great. Players everywhere, especially younger kids will have the ability to receive feedback from Motus, which they provide at the Lab. I would have loved to have this type of training tool when I was coming up."
Each time the reigning National League MVP steps to the plate, it causes concern for opposing pitchers. Since entering the big leagues, McCutchen has continued to rack up impressive stats and has proven to be amongst the best in the sport. An amazing work ethic, strong support system, raw talent, and laser focused pursuit to be the best has helped McCutchen reach the pinnacle of his sport. Still, the very best continue to seek out the latest methods and tools available to ensure they continue performing at the highest level. This is evident by McCutchen's work with Motus Global. The MVP began working with Motus two-years ago at their IMG Academy based Lab while training ahead of the spring season. He returned again before this year's campaign and was impressed by the technical advances and direction that Motus was taking.
For more about the new app watch: http://vimeo.com/99934160.
ABOUT MOTUS: Take an unmatched passion for sports and technology-coupled with an industry leading physics engine and the most comprehensive database of athletic movements, and you have Motus. As the sports industry's leader in biomechanics, Motus' proprietary software allows athletes to enhance their performance and reduces the risk of injury by helping them understand their movement and its impact on their game. Whether through a comprehensive biomechanical analysis conducted at one of our labs, or as a user of the Motus Mobile Application, Motus provides simplified actionable feedback and corrective programs that allow athletes to master their mechanics. For more information, contact: info(at)motusglobal(dot)com.
ABOUT ANDREW McCUTCHEN: Andrew McCutchen established himself as one of the top stars in all of Major League Baseball following a 2013 campaign, which concluded with him winning the National League MVP. The three-time All-Star center fielder led the Pittsburgh Pirates to the franchise's first winning season and playoff appearance in 21 years.
After realizing one of his professional dreams and signing a long-term contract with the Pirates during the 2012 off-season, Andrew has made a commitment to the Pittsburgh community. He has established Cutch's Crew, along with the Pirates, to help mentor and provide funding for inner city baseball programs and players. He also serves as the spokesperson for Habitat for Humanity of Greater Pittsburgh and works extensively with Children's Hospital of Pittsburgh. For more information visit: http://www.cutch22.com.
Press inquiries should be directed to David Bishop, 180 Communications at david(at)team180(dot)com or 850-412-0300.