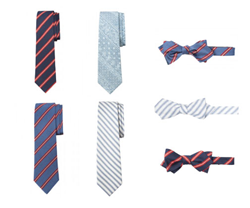 Whether the dress code is black tie or semi-formal, guys no longer have to stick to simple suits and tuxedos.
Lynbrook, NY (PRWEB) July 29, 2014
Wedding season means shedding summer shorts and workout sweatpants accordingly, but let's face it: whether you're the groom-to-be or his groomsmen buddy, who wants to look like every other regular guy out there in a penguin suit?
"Wedding accessories are no longer just for the ladies", said Jack Fischman, Founder and CEO of men's accessory and lifestyle brand, Salt + Dapper. "Whether the dress code is black tie or semi-formal, guys no longer have to stick to simple suits and tuxedos."
A menswear industry expert and veteran, Jack created the Salt + Dapper line with an emphasis on classic, clean styling while offering a wide pallet of refreshing, seasonal colors and fabrics to choose from. A married man himself, Jack today shares his favorite men's accessories with gentlemanly grooms (and their dapperly groomsmen):
1. Tying the knot. For the conservative men erring on the safe side of tradition, Jack recommends selecting ties made with luxe yet light fabrics in fun summer colors. "Oxford and seersucker ties are made with soft, breathable cloths that won't weigh you down in this heat – you might be suited up, but you still look and feel relaxed," shares Jack. "Plus, people will assume you have a beach house in the Hamptons."
2. Wedding bows. Bow ties, that is – Old World standards that have quickly become the modern go-to men's accessory for the stylishly brave. "All of our bowties are crafted from lightweight 100% cottons to keep the wearer light and mellow – perfect for those long hours catching up with family and friends throughout the wedding weekend," says Jack.
3. Pocket squares. Not a fan of wearing flowers? Jack suggests grooms do the unthinkable and ditch the flower by donning pocket squares instead. "They are an equally fancy alternative to wedding boutonnieres – not to mention, you will be prepared if you or the bride shed a few happy tears. Bonus points: it won't wilt on you or the bride's white dress at the end of the night," says Jack. "This will hopefully serve as a happy omen for years to come."
4. Suspenders. For the extra dapperly, Jack endorses suspenders for the bold and debonair crowd. "Salt + Dapper offers grosgrain suspenders, handmade in New York, which might come in handy when it's your turn on the wedding dance floor," Jack says. "Suspenders give you a needed finished look even when you are in your shirtsleeves, adding a touch of what the Italians refer to as sprezzatura; which basically means looking totally cool without trying."
"If you ask me, that's what Salt + Dapper accessories, and weddings are all about – sprezzatura, so men can stand out in the best well-dressed, well-groomed way during wedding season and beyond," concluded Jack.
About Salt + Dapper
Salt + Dapper is a men's accessory brand based on Long Island, New York that brings years of experience and expertise in fabric, construction, detailing, styling and merchandising. The company opened its doors in 2013 but has deep roots in the contemporary men's fashion industry. Salt + Dapper styling can be described as a fusion of classic design and modern aesthetic with its creation of ties, scarves, suspenders, and accessories. Products are catered for individual or wholesale purchase.
To learn more visit: SaltDapper.com