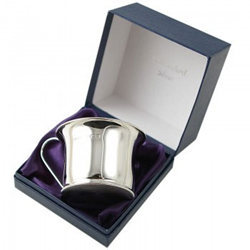 By ordering the silver cups in large volumes, CHRISTENINGSilver is able to create an economy of scale
Hampton Lucy, Warwick (PRWEB UK) 30 July 2014
CHRISTENINGSilver, a UK based company offering silver Christening gifts, is offering its customers excellent discounts on beautiful high quality products. Their range of Christening cups, mugs and tankards is very popular at the moment, as CHRISTENINGSilver have been buying the silver cups in volume for discounts which means they can pass on the savings to its customers! The price of silver is much lower at the moment than it has been in recent years, which means that this is a prime opportunity for customers to get excellent prices on silver gifts.
By ordering the silver cups in large volumes, CHRISTENINGSilver is able to create an economy of scale which allows them to provide a significant discount. They will be able to sell a number of these sterling silver cups below the £100 price point, making them a great deal for a Christening present.
The company is offering their Baby Sterling Silver Christening Cup as a site exclusive, which means that you will not be able to find it anywhere else. At £85, this is one of the most competitively priced products of its kind currently on the web.
Also on the website customers will find the "Silver Christening Cup – Exclusive Price" – which is a product that many other retailers are currently selling at around £159.99. CHRISTENINGSilver has negotiated a large volume discount from their silversmith, which has allowed them to offer this cup for only £99. Due to this very competitive price, the first delivery of these cups sold out within three weeks of them being launched on the website! At the moment they are finding it difficult to keep the cups in stock due to the very high demand.
Now is the Time to Buy Silver Gifts
This is an advantageous time to buy silver gifts, the price of silver was at £25.00 per ounce in mid-2011, but it has dipped below £13.50 per ounce – making this a very smart time to buy. The price was £12.20 per ounce at the time of writing.
If you need a timeless and elegant Christening gift or you just want to invest in the value of silver – this is the time to make your purchase.
Unique Customised Gifts Available
Ordering gifts from CHRISTENINGSilver also includes a personalisation service, which can be added at a modest cost of between £10 and £20. They have a team of talented in-house engravers, so they will be able to engrave all orders on the same day – as long as the order is received before 12 noon. This means that an engraved cup that is ordered at 11:00am can be delivered before 1pm on the very next day. This is very helpful for those who are looking for a last minute Christening gift and don't have the time to wait, or for those who get overly anxious waiting for parcels to arrive!
A Great Range of Christening Cups, Tankards and Mugs
At CHRISTENINGSilver they offer a full range of Christening tankards, cups and mugs. These are all classic gifts for Christenings and baptisms for either boys or girls and they come in a full range of designs – from modern silver mugs to traditional Victorian Christening cups. They offer one of the most comprehensive ranges on the internet, with prices that are well below the RRP of the silversmith too.
CHRISTENINGSilver also offers a gift wrapping service, which will help customers to make the gift more special. There is an option to send the gift directly to the recipient and customers can select the "Gift Wrap" option at the check-out. There is also an opportunity to include a special message with the order.
Discounted Silver Will Not Be Available for Long
CHRISTENINGSilver has reduced the prices of their silver products due to the recent drop in the cost of silver. However they will not be able to sustain the extremely cheap prices for long. They can only guarantee that they will maintain these deeply discounted prices for as long as silver stays below £13.50 per ounce.
This means that this sale could be over at any time, so customers are encouraged to take advantage of this opportunity and buy silver gifts. There is no better time than now to invest in a beautiful silver Christening gift, now that silver is at the lowest price that it has been for years.
About CHRISTENINGSilver
CHRISTENINGSilver is a website that provides a one-stop-shop for grandparents, parents, godparents and friends who are looking to find the ideal christening gift for a new baby in their lives. They first began trading online in 2006 and they have established and friendly and reliable service, in which they provide competitively priced gifts that can be shipped anywhere in the world. They are also able to offer their customers next day delivery in the UK.
CHRISTENINGSilver only stocks Christening presents, which means that they have the largest selection of silver gifts and the most competitive prices that you will find anywhere on the web or the high street. Also their prices include packaging and postage, which means that there are no surprises at the check-out. They offer a wide range of products, from bibles to bookmarks to bowls and dishes to cutlery sets, frames, jewellery, loop spoons, napkin rings, rattles and much more.