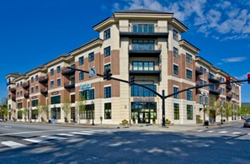 Buyers are also placing a premium on French Broad Place's proximity to hiking, biking, fishing, rock climbing, kayaking, camping, zip lines and over 200 waterfalls
Brevard, NC (PRWEB) July 29, 2014
Xcelsior French Broad LLC's recent acquisition of luxury condominium development French Broad Place, has hastened the pace of new residents moving into the heart of downtown Brevard. As construction nears completion, Xcelsior French Broad's preview phase of selling has exceeded all expectations, selling more than 20% of the residences over the last few weeks.
According to Steven Guy of Strategyst, who leads sales and marketing efforts for the development, much of French Broad's appeal has been the unique buying opportunity afforded those who desire luxury living, convenience and security in a terrific location. "Buyers are recognizing French Broad Place as the ideal residence to be within walking distance of cultural activities and world class dining from renowned chefs. Since Brevard was recently placed on National Geographic's Top 50 of the World's Last Great Places, buyers are also placing a premium on French Broad Place's proximity to hiking, biking, fishing, rock climbing, kayaking, camping, zip lines and over 200 waterfalls."
Located across from Brevard College, on Broad Street in Downtown Brevard, French Broad Place is home to one, two and three bedroom residences, all built with extraordinary attention to detail. Each condominium is richly appointed with high-end finishes including granite countertops and crown moldings, and many residences feature uniquely designed fireplaces. Prices start at only $159,900.
Says Guy, "Buyers and potential buyers are finding that part of French Broad Place's uniqueness is its design." The first and second floors of the development feature specialty retail shops, as well as medical and professional offices. The very private third and fourth floors are entirely dedicated to French Broad Place's luxury residences and amenities. The 3rd floor garden is a perfect respite for afternoon tea, an evening barbeque, or to just relax and get a bit of sun. The fully enclosed 100-car garage provides ample parking for both the private residences and the commercial spaces.
For more information on French Broad Place visit http://www.frenchbroadcondos.com.