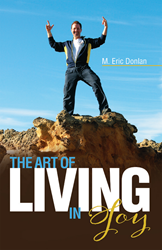 This book will remind you of your power, and assist you to reclaim whom you really are inside.
Orlando, Fla. (PRWEB) July 29, 2014
What if it only took one moment to let go of everything weighing a person down? In his new book "The Art of Living in Joy," speaker, author and life coach M. Eric Donlan explains how a simple shift of perception can change your life.
Using his personal experiences Donlan shows readers how to release negative belief systems and discover self-acceptance. The premise of a positive relationship with "self" provides the framework for expanding one's capabilities and their ability to enjoy interacting with others. Through a "right here, right now" mentality readers will learn the impact of engaging in the present moment.
A key component of Donlan's message is his "Ego" philosophy, which recognizes ego and judgment as the origin of fear. By keeping one's energy "above the line" and focused on positive aspects you become a "conscious creator" and recognize that at any moment joy is available when one shifts perceptions. This easy guide will assist in releasing burdens and shift attention to joy.
As readers dive into Donlan's philosophy they will find themselves developing a healthier mentality and a more positive outlook on life.
"This book will remind you of your power, and assist you to reclaim whom you really are inside," said Donlan. "We are all born worthy of creating a wonderful and joyous life."
Using vivid instances, Donlan shares life situations and challenges many others find themselves identifying with. The challenges portrayed in this book will encourage readers to overcome their fears and grasp all opportunities that come their way.
For more information on Eric Donlan visit his website at http://www.ericdonlan.com.
"The Art of Living in Joy"
By: M. Eric Donlan
ISBN: 978-1452515267
Available at Amazon and Balboa Press
About the author
M. Eric Donlan is a practicing spiritual mentor and successful businessman. Donlan began as a commercial actor and model when he eventually transitioned into an entrepreneurial career. He has owned and operated businesses such as a bagel bakery, coffee shop, antique store and café restaurant. Donlan resides in Davenport, Florida.
# # #
EDITORS: For review copies or interview requests, contact:
Emily Wilson
317-602-7137 | ewilson(at)bohlsengroup(dot)com
(When requesting review copies, please provide mailing address.)