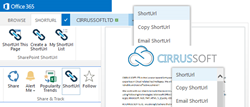 We believe that supporting our customers is paramount to our success. With the long term relationships that we build, we are trusted to receive valuable feedback and in turn can expand the product offering to incorporate what organisations really want!
(PRWEB UK) 29 July 2014
The SharePoint ShortUrl App is the must-have resource for creating and sharing vanity and shortcut hyperlinks. With this invaluable App, long and complicated URLs are now a thing of the past!
Emailing document links, adding them to files and passing them onto others is no longer prone to errors. Shorter and cleaner hyperlinks make for a much more efficient sharing process.
SharePoint ShortUrl is already established for on-premises SharePoint installations for those who want to get the most out of their SharePoint environment.
The SharePoint ShortUrl App now brings this functionality to SharePoint Online (Office 365).
The SharePoint ShortUrl App has been created by SharePoint experts but it is very simple to use. Team members who are already familiar with the SharePoint environment will not need to receive any additional training for SharePoint ShortUrl.
SharePoint ShortUrl is already trusted by a number of global brands, with the likes of Netflix, Kelloggs, and Nasa heading up an impressive list of big-name fans.
Interested in joining the brands and organisations that are already on board?
Download the SharePoint ShortUrl App Free via the Microsoft Store:
http://office.microsoft.com/en-gb/store/sharepoint-shorturl-app-WA104368123.aspx