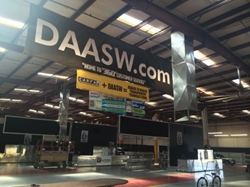 (PRWEB) July 29, 2014
"DAASW is expanding its technology base and converting to Whann Tech auction software," reports Stephanie Gingras, Auction General Manager. "We will be powering our growing Internet buyer base with our newly upgraded Cox Fiber, which will increase our broadband capabilities exponentially and improve the quality of the online stream as we continue to simulcast 100 percent of our sale each week. This process called for an android and IOS flexible operating system, and the outcome is our own proprietary mobile technology that allows us to integrate more dealer friendly aspects into our DAASW.com and DAASW.mx (our Hispanic site), allowing customers to access everything they need to do business with the auction on a Smartphone or iPad, including buying vehicles via Simulcast which is accessible directly through our website."
Gingras notes that other website enhancements at DAASW include a password-protected link to individual account information, allowing customers to review vehicles bought and sold, payments due, and titles received, from a desktop computer or mobile device. In addition, more images and video of units consigned to the sale will be seamlessly uploaded to the auction's online run lists and clearly visible to online buyers prior to sale day.
The auction is also doing away with traditional paper invoices, says Gingras. "On the block, dealers will receive a small paper printout of their purchases, and can elect to have their full invoices sent in either text or email formats."
On the low-tech side, DAASW had been working to solve the Arizona summer environmental problem for its in-lane buyers and has completed a downdraft system to offset the normally blistering 110 degree heat.
"Auctions are about both high- and low-tech enhancements," stated Jim DesRochers, auction vice president and former NAAA president. "It can be easy to focus on the 25 percent of our business on the internet and not focus enough on the 75 percent that is going through our lanes. Our goal is and always will be to have a symbiotic relationship with our overall customer base by integrating both 'push' and 'pull' mobile technology with in-lane enhancements to ensure state of the art brick and mortar auctions are driven with a high tech backbone."
Dealers of the Southwest is the leader in Text Bidder Badge services, the innovator of Mexico Ready designations and a partner with CarFax in "Transparent Transaction" VHR announcements.
Founded in 2002 by industry veterans Brad Sturgeon and Bill Baker, DAASW is located downtown Phoenix just minutes from Sky Harbor Airport. Dealers Auto Auction of the Southwest welcomes dealers to its weekly sale on Wednesdays, with its tow sale at 11:30 am, and regular consignment following at 12:00 pm, featuring vehicles from Lobel Financial, Consumer Portfolio Service, and Camelback Finance in addition to numerous auto dealers in the region. The auction offers full mechanical and reconditioning services, post-sale inspections, and both pre- and post-sale repairs. The auction's general manager is "2012 Woman in Remarketing" honoree Stephanie Gingras. The auction is a member of the ServNet auction group and the National Auto Auction Association.