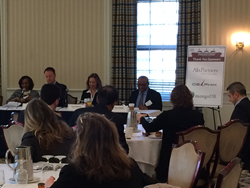 says Johna Till Johnson, CEO at Nemertes Research. "This event pulls teams from all three groups, and provides an open forum in which to share best practices."
New York, New York (PRWEB) July 29, 2014
The WSTA will host a panel discussion on "Seeing the Elephant: How Infosec, Compliance, and Legal Teams Can Work Together to Enable Effective Risk Management" on August 6, 2014 in New York City. Johna Till Johnson, CEO and Founder, Nemertes Research will provide industry perspectives and moderate the session. "With the avalanche of new regulations and the increasingly high visibility of security breaches, financial services firms are recognizing that it's critical to take a coordinated approach to risk management," says Johna Till Johnson. "This event pulls teams from all three groups, and provides an open forum in which to share best practices."
This members-only event is sponsored by Intralinks and Trend Micro. View the complete agenda, along with panelists and their bios, at http://www.wsta.org/events/event/panel-discussion-enabling-effective-risk-management/
Panel Discussion Overview
We're all familiar with the old adage of the three blind men and the elephant. But what happens when the three men pool their efforts and share their observations? They gain a comprehensive picture of the elephant—and make it possible to harness its power.
That's essentially the challenge facing many financial services firms today. Infosec, compliance, and legal all have different—and equally valid—views of the risk landscape, and what companies should do about it. But that's no longer acceptable. In a world in which imperfect compliance can carve billions off a company's market capitalization, blindly feeling one's way is no longer sufficient. Infosec, compliance, and legal teams need to engage with each other for the greater good of all.
Join the WSTA and Nemertes Research to hear from this world-class panel of legal, compliance, and information security experts. We'll engage in a lively dialogue with each other, and with the participants, to capture best practices in cross-silo teamwork. Attendees will leave with an arsenal of ideas and insights they can put to work right away in their own organizations.
Profile
For over 45 years, the Wall Street Technology Association has provided financial industry technology professionals, vendors, service providers, and consultants forums to learn from and connect with each other. The WSTA facilitates educational seminars and networking events where members meet and exchange ideas and best practices that assist them in effectively capitalizing on technology advances and dealing with financial industry business challenges. Founded in 1967, the WSTA is a not-for-profit association with a long history of evolving to meet the needs of its members.
The WSTA hosts seminars, roundtables, panel discussions, social events, and meetups. These events offer many opportunities to stay on top of leading technologies, as well as network and share information with industry colleagues. The WSTA's quarterly educational Ticker Magazine and LimeLight e-newsletter provide additional content and information about the WSTA and industry-related activities. The newly launched website is a dynamic resource for keeping on top of the latest information and offers access to additional resources including a career center, white papers, blogs, and information about other industry events.
Financial Firm Members
WSTA financial firm members are employed at banks, brokerages, hedge funds, insurance companies and other financial firms. The WSTA currently has about 2,300 members from over 50 different firms; 81% of the members hold senior titles such as CIOs, CTOs, Vice President, Director and Manager. The remaining 19% hold other titles such as analysts, engineers, architects, etc. The WSTA also reaches over 3,200 prospective financial firm technology professionals with information about educational and networking opportunities.
Affiliates and Sponsors
The WSTA currently has over 200 technology firms that participate in the WSTA as an affiliate or sponsor. Companies that provide cloud, big data, mobility, security, software, infrastructure, networking, social, telecom and other industry-related solutions find the WSTA an invaluable forum to create awareness, educate and develop relationships with financial industry professionals.
Nemertes Research is a research-advisory and consulting firm that specializes in analyzing and quantifying the business value of emerging technologies. You can learn more about Nemertes Research at our Website, http://www.nemertes.com, or contact us directly at research(at)nemertes(dot)com.