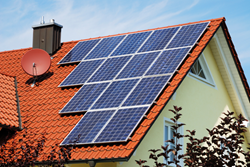 'This joint venture puts us on track to realise our ambitions of investing $10 billion in clean energy projects by 2020'
Charleston, South Carolina (PRWEB) August 05, 2014
Palmetto Energy PLC, part of Charleston based clean energy investment firm The Palmetto Group, today secured a joint venture partnership with Louisiana based Sader Power Enterprises LLC that is expected to create one of the largest vertically integrated solar installation companies in the United States.
"This joint venture puts us on track to realise our ambitions of investing $10 billion in clean energy projects by 2020," said Chris Kemper, CEO and Founder of The Palmetto Group . "The combination of the unique, highly disruptive technologies that Sader has created combined with The Palmetto Group's proven ability to fund large scale renewable energy projects will enable us to become a substantial, highly competitive entity in the burgeoning US clean energy sector," he continued.
"We have the technology and methods to develop the largest power company in the world in less than 20 years, providing enough capacity to satisfy the demand for electricity nationwide whilst at the same time replacing the Grid," said Jon Sader, Founder and CEO of Sader Power Enterprises. "We are excited about the prospects of working closely with Palmetto whose clean energy finance expertise will enable us to get one step closer to our ambition of putting a solar array on every rooftop in America," he continued.
For further information, contact:
PR Team
The Palmetto Group LLC
6 North Atlantic Wharf
Charleston
SC 29401
http://www.palmetto.com
marketing(at)palmetto(dot)com
Brooks Young
Director of Marketing & Public Relations
Sader Power Enterprises, LLC
504-246-5924
9930 Chef Menteur Hwy
New Orleans, LA 70127
BYoung(at)saderpower(dot)com
http://www.saderpower.com
About Palmetto
Operating since 1996, The Palmetto Group is a trusted financial firm that offers clean energy investment products with environmental benefits to its growing global client base of over 300 institutions and 12,000 private clients. The Palmetto Group has grown rapidly and evolved into a highly regarded financial firm with substantial transaction experience having financed clean energy assets in excess of $350m worldwide.
Palmetto Energy PLC is the development and finance division of The Palmetto Group
In August 2014 The Palmetto Group LLC will launch Palmetto Direct, a crowd funding platform that is uniquely positioned to enable retail investors to benefit from high quality investments in clean energy products that deliver solid, dependable returns that are underpinned with capital preservation.
About Sader Power Enterprises
Sader Power Enterprises LLC, a large scale Louisiana based residential solar panel installer, has installed over 45,000 solar panels in Louisiana and Michigan, generating over 13mW of clean energy each year. Many of Sader Power's core team were originally with Brad Pitt's Make It Right Foundation based in New Orleans, Louisiana.
Sader Power Enterprises LLC has patented a number of unique panel mounting, installation, wiring and micro inverter technologies that significantly reduce the time it takes to install a solar array on a rooftop - from 2 days to just 3 hours.
The scalability and efficiency that these technological breakthroughs deliver have enabled Sader Power Enterprises LLC to significantly accelerate the rollout of solar arrays in the states in which they operate and begin the next stage of their expansion both in the US and internationally.