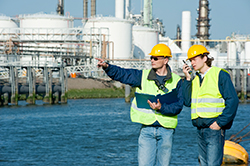 Two-way radios are critical for immediately communicating spills. Faster notification enables more team members to assist in stopping the migration of the spill and protecting nearby water sources from contamination.
Jackson, MS (PRWEB) July 30, 2014
Forestry Suppliers, a worldwide supplier of equipment for natural resource professionals and an authorized reseller of Motorola two-way radios, recently released a list of top reasons why professionals working in brownfield testing areas should use two-way radio communication. The company cites benefits including safety and durability as two of the top reasons.
Brownfield sites (industrial or commercial properties where environmental contaminants, pollutants, or hazardous materials complicate redevelopment of the area) are inherently dangerous because of the environmental risks associated with the site. According to the U.S. Government Accountability Office, over 425,000 brownfield sites exist in the United States, although many have been redeveloped after bio-remediation to improve local communities. Forestry Suppliers released these top reasons for companies involved in brownfield testing to invest in the safety and productivity of their employees.
1. Increased Reliability: When conducting brownfield testing, communication needs to be reliable to keep employees safe. Even with the necessary protective gear – respirators, hazmat suits, hard hats, gloves, and eyewear, for example -- workers in the area could encounter dangerous situations. In an emergency, two-way communication would allow the team to quickly notify each other and get help.
"If a chemical spill occurs, contact the EPA immediately," says Malcolm Ritchie, safety engineer with Martin Safety Solutions, Inc. "In these instances, two-way radios are critical for immediately communicating spills. Faster notification enables more team members to assist in stopping the migration of the spill and protecting nearby water sources from contamination."
2. Increased Durability: Two-way radios are ideal for testing large brownfield areas according to Forestry Suppliers because of their durability. Two-way radios are designed to be lightweight but extremely durable. In fact, most models are built to military and IP specs. When you drop two-way radios, the polycarbonate housing does not crack or break. Plus, battery life for industrial two-way radios spans from 12-26 hours, depending on the model.
Two accessories can make two-way communication even easier and help prolong the life of the radio -- waterproof pouches and remote speaker microphones. Both accessories can help professionals avoid having materials from the test site come into direct contact with the radio. Keeping the radio clean is important so that it does not cause irritation later when it may touch workers' skin. "The microphones can be worn inside Level A suits for clear communication," says Ritchie. "And for less hazardous conditions, the waterproof pouches are easy to clean."
3. Increased Privacy: Two-way business series radios are well suited to meet the needs of companies. For companies who prefer to keep communications restricted, Forestry Suppliers recommends the Motorola RM and RDX two-way business radios. These radios offer multiple channels with business-exclusive frequencies, extended battery life, and long ranges to meet the needs of large test sites.
4. Increased Productivity: Two-way radio communication increases productivity by saving time as workers communicate in real time their findings throughout various areas of the test site. With the push of a button, everyone on the team stays up to date simultaneously.
Forestry Suppliers is a Motorola authorized business two-way radio reseller offering RM Series, RDX Series, and CLS Series business radios and has carried Motorola products for more than 30 years. For more information on their selection of radios, contact their Technical Specialists at 800-430-5566 or visit them online.
About Forestry Suppliers
Forestry Suppliers, Inc. is a worldwide supplier and distributor of general-use and specialty products and equipment for natural resource professionals. Their annual catalog and website contain a complete selection for a wide range of outdoor industries, including forestry, agriculture, arboriculture, landscaping, horticulture, grounds maintenance, surveying, engineering, remote sensing, vegetation management, construction, home inspection, utilities, wildland firefighting, geology and mining, archaeology, anthropology, parks and recreation, golf courses, wildlife management, fisheries and aquaculture, earth science education, environmental engineering, hazmat, and remediation.
Founded in 1949 by Jim Craig, former Mississippi State Forester, Forestry Suppliers, Inc. maintains a distribution warehouse and administrative headquarters in Jackson, Mississippi. For more information about Forestry Suppliers, visit them online at http://www.forestry-suppliers.com.
MOTOROLA, MOTO, MOTOROLA SOLUTIONS and the Stylized M logo are trademarks of Motorola Trademark Holdings, LLC and are used under license. All other trademarks are the property of their respective owners. © 2014 Motorola Solutions, Inc. All rights reserved.