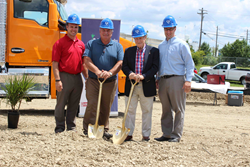 The 6.4-acre site will give the dealership room to expand with more trucks and parts inventory; while providing a state of the art dealership. Said Greg Mills, Kenworth of Cincinnati General Manager
Indianapolis, Indiana (PRWEB) July 29, 2014
Today representatives from Palmer Trucks, local businesses, government, Cincinnati Commercial Contracting and the Palmer Family gathered at a groundbreaking ceremony for the new 44,000 square foot dealership. The new dealership located at 65 Partnership Way is double the size of the current location.
"We have been part of the Sharonville community since December 1977." A lot has changed and we have seen tremendous growth." said John Nichols, President of Palmer Trucks.
Today's groundbreaking marks a new chapter in the City of Sharonville and Palmer Trucks.
"The 6.4-acre site will give the dealership room to expand with more trucks and parts inventory; while providing a state of the art dealership." Said Greg Mills, Kenworth of Cincinnati General Manager. "Kenworth of Cincinnati will provide the same services, collision repair, truck sales and leasing all now in a new building."
Palmer Trucks is an Indiana/Ohio privately owned company specializing in providing top quality Kenworth trucks, parts and service to our Mid-west clients. With our 500 employees The Palmer Truck Group is committed to providing quality service and solutions for the transportation industry.
"With new growth and new service bays we are expected to grow our team significantly in the next few years," said Jake Nichols, Human Resources Director.
Palmer Trucks is proud to lead Ohio in providing heavy-duty trucks in the alternative fuel markets. Because of the collaboration of Kenworth Truck Company, Cummins, Trilogy, engineers, sales professionals, technicians, and many others. Palmer Trucks has had great success in the alternative fuel market.
The new Kenworth of Cincinnati will be designed to meet compressed natural gas standards and service converted fleets.
"We not only want to serve our customers through this new building but also make the community of Sharonville a better place." Said John Nichols.
Cincinnati Commercial Contracting (CCC) is designing and building the new Kenworth of Cincinnati. The 35-year-old firm is an authorized Butler Building dealer.
Kenworth of Cincinnati plans to open early 2015, 65 Partnership Way, Sharonville Ohio.
###
About Palmer Trucks
Palmer Trucks is an Indiana/Ohio privately owned company specializing in providing top quality Kenworth trucks, parts and service to our Mid-west clients. The Palmer Truck Group is committed to providing quality service and solutions for the transportation industry. These solutions include Kenworth Trucks (new and used), diesel, service, parts, financing, leasing, rental, vocational trucks, vocational parts, accessories and Kenworth Truck gear. Learn More: palmertrucks.com