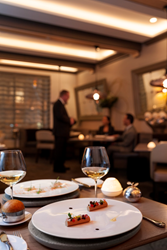 We are so honored to be recognized for our wine list alongside so many internationally-acclaimed restaurants.
New York, New York (PRWEB) July 30, 2014
Located in the Flatiron District of Manhattan, Hotel Chandler is a luxury boutique hotel that offers one of the most intimate dining experiences in New York City at their on-site restaurant, JUNI. This high-end restaurant serves seasonal dishes crafted by Executive Chef Shaun Hergatt as well as an extensive wine list that was recently awarded an Award of Excellence by Wine Spectator.
Restaurants presented with Wine Spectator's Restaurant Wine List Awards boast some of the most exceptional wine lists in the world. Complementing their innovative and seasonal cuisine, JUNI's wine selection features a diverse range of vintages and appellations from the world's most celebrated producers—making them the ideal candidate for an Award of Excellence. Curated by Juni's wine director Daniel Beedle, the list offers 250 selections with a focus on the best wines from New York, France, Italy, and California.
"We are so honored to be recognized for our wine list alongside so many internationally-acclaimed restaurants. We welcome all connoisseurs to indulge in our exquisite wine selection by Sommelier Daniel Beedle," said Kate Martin, General Manager of the Hotel Chandler.
Daniel Beedle is a member of the Cicerone Certification Program and currently studying for the Master Sommelier exam. Revamping the wine list entirely to reflect the seasons, Beedle has expanded the number of domestic wines offered by bringing in more selections from small producers in the Finger Lake region and New York State. To date, JUNI Restaurant has gained the attention many food and wine connoisseurs from around the world with their fresh ingredients and marvelous wine list.
For more information or reservations, visit the JUNI Restaurant website.
About Hotel Chandler
Located on the border of the Flatiron District and Murray Hill, Hotel Chandler is a gem of a New York City boutique hotel. Boasting newly-renovated, comfortable guestrooms; a refined library lounge for sitting, working, or relaxing; intuitive amenities such as Frette linens, Molton Brown bath products, and complimentary high-speed Internet; and a location steps from New York City's finest attractions, Hotel Chandler is an ideal destination for New York City travel.