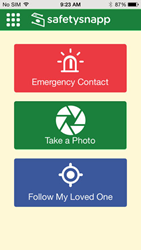 Nashua, NH (PRWEB) July 29, 2014
Lil' Iguana's Children's Safety Foundation, a leader in proactive children's safety education, has released a mobile app that helps caregivers store vital information about their loved one that can be distributed quickly in case of an emergency.
SafetySnapp gives caregivers access to GPS technology, automated emergency contacts, and scrapbooking software. These powerful tools combine to give users what they need most in case their loved one goes missing.
Daily alarms remind users with a built-in camera to take a picture of their child, or those in their care suffering from memory loss or disabilities. This collection of constantly-updated photos becomes essential in missing person cases where a truly accurate description is needed. Users can also use the photos to create unique scrapbooks that can be shared on Facebook, Twitter and via email.
A mini-version of SafetySnapp can also be added to a loved one's iPhone, iPad, iPod, and Android devices, which will track their current location via GPS. The "Follow My Loved One" feature lets caregivers know where their loved ones are at the touch of a button during an emergency situation. The app also comes with a one-touch solution to instantly notify a list of Primary and Emergency Contacts when a loved one goes missing. Important information will immediately be sent alongside an updated photo to personal circles (like family, friends, and teachers) and emergency personnel (police, hospital, Amber Alert, and local media).
SafetySnapp was developed for Lil' Iguana's Children's Safety Foundation by Zco Corporation, one of the largest app development companies in the world. SafetySnapp is free to download with a subscription fee of less than $1 per month, which is billed annually at $11.99.
About Lil' Iguana's Children's Safety Foundation
SafetySnapp is the latest development from the Lil' Iguana's Children's Safety Foundation to keep children and our loved ones safe. For 20 years, the Lil' Iguana's Children's Safety Foundation has developed and implemented educational programs and products that keep loved ones safe. This innovative non-profit utilizes prevention programs that have saved children from abduction, sexual abuse, child predators, and serious accidental injuries.
The Foundation has been featured in national publications/national programming, enthusiastically endorsed by safety-officer leagues, acclaimed universities and higher-education institutions, head start programs, and hundreds of schools, child care facilities, police departments, and parenting groups.