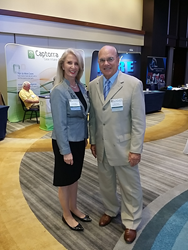 Our program was truly welcomed at the trade show, as nothing increases the bottom line in business more than an excellent Customer Service Culture.
New York, NY (PRWEB) July 29, 2014
PILMMA Summit is a National Conference and Trade Show that is hosted for Personal Injury Attorneys. This particular Summit, held on July 16th to July 19th, focused on marketing and management.
The Business Doctor's emphasized how their customer service program helps to teach about the principles of business and trains companies on how to create a superior culture through customer service. These specific customer service programs have been taught for over 40 years allowing for continual updates to be made on advancing technology, as well the changes business' experience over the course of their life cycle.
Skolnick stated, "Our program was truly welcomed at the trade show, as nothing increases the bottom line in business more than an excellent Customer Service Culture."
DeGutis added, "There were over 120 legal firms at the trade show with staffs which ranged from 15 to 150 employees. All of the attorneys we spoke to were interested in improving their customer service to gain new customers, retain existing customers and receive on-going referrals."
The Business Doctors stressed how a truly great customer service culture will turn incoming phone calls into customers and clients. Going hand and hand, another result is preventing the loss of customers and creating credible referrals.
Skolnick added, "The feedback we heard from the majority of the attorneys was that if there was drama going on in the office, they felt it as soon as they walked through the door. This is counterproductive to a good working environment." These trainings by The Business Doctors helped to show how to relieve stress in a corporate setting.
Due to the number of positive responses that The Business Doctors received from the PILMMA Summit, Skolnick has already scheduled three speeches the first week in August on Long Island continuing to promote this much needed program.
About the Business Doctors:
Sheila Skolnick and Michael DeGutis, The Business Doctors of Long, Island, New York, are a dynamic team with wide-ranging business experience. Sheila is an inspirational speaker and business consultant that created a multi-million dollar business without any knowledge of the industry. Sheila teaches business principles and offers hands on experiences when speaking about her business success. Sheila currently holds workshops for businesses and aspiring entrepreneurs. Michael brings his extensive media experience, successful sales techniques and years of working experience to The Business Doctors' team. Michael started his own business by producing commercials, ads and film for celebrity and professional athletes. Michael's career later transitioned into a successful sales career with a number of reputable companies.
To book Sheila for speaking engagements or to learn more information about The Business Doctors visit: http://www.thebusinessdocotrs.org, call 631.875.1555 or email Sheila (at) TheBusinessDoctors (dot) org and Michael (at) TheBusinessDoctors (dot) org.