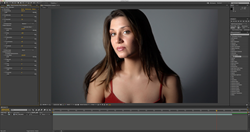 Portraiture for Video will fill an important void for videographers and filmmakers who need to adjust skin tones automatically during final production.
New York, NY (PRWEB) July 29, 2014
Imagenomic, an independent software vendor specializing in digital imagery enhancement solutions, has announced that its award-winning Portraiture software to soften and enhance skin tones in still photographs, is now available for video. Portraiture for Video provides unmatched, natural-looking skin retouching for video and gives filmmakers, videographers, and post-production editing pros a quick, easy and effective way to enhance skin tones. Portraiture for Video is compatible with Adobe After Effects, Adobe Premiere Pro, Apple Final Cut Pro, Sony Vegas Pro, and DaVinci Resolve. A full version of Portraiture for Video is available as a 15-day free trial. The annual subscription rate for the software is $99 and can be downloaded at imagenomic.com.
By incorporating a series of award-winning algorithms, Imagenomic was able to optimize the software for speed to deliver unparalleled performance and productivity benefits in a demanding video editing workflow. In addition, users will have precise control over details and skin texture with the software's masking feature to achieve unmatched and customized results.
While the software's default settings are amazingly accurate, editors want the flexibility to control and adjust warmth, tint, brightness, and contrast. The software's powerful new enhancement controls allow users to do exactly that, and more.
"We believe that Portraiture for Video will fill an important void for videographers and filmmakers who need to adjust skin tones automatically during final production," explains Art Ghazaryan, Co-CEO and COO of Imagenomic. "Wedding, fashion, and interview-style productions are just a few examples where Portraiture would be instrumental in helping to quickly achieve inimitable retouching results in a high definition workflow.
Portraiture for Video runs on Windows 7 / 8 (64-bit) and Mac OS X 10.8.x /10.9.x operating systems, and is compatible with a number of video editing software programs including Adobe Premiere Pro (CS6/CC), Adobe After Effects (CS6/CC), Apple Final Cut Pro X, Sony Vegas Pro 12/13 and DaVinci Resolve.
About Imagenomic, LLC
Imagenomic, LLC, (imagenomic.com) is a privately held, independent software vendor specializing in digital image and video enhancement solutions. Using our proprietary, patented algorithms, we are focused on creating high-performance software tools for retouching, noise and artifact removal, sharpening and other image correction and video enhancement processes. Our award-winning products have been acclaimed by our global customer community and industry peers for their superior processing speed, picture quality and overall ease of use.
Desktop editions of our products come in both standalone and plug-in versions for industry-leading image-editing applications, and feature intuitive controls for both consumer and professional-level users. Our Software Development Kit (SDK) extends Imagenomic innovations into third-party products and vertical industry applications.