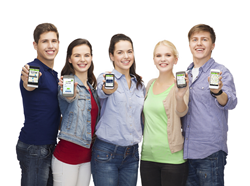 Great companies don't just win new customers, they bring them back for more.
Las Vegas, NV (PRWEB) July 29, 2014
Helping local merchants get into the emerging mobile market just got easier as the local market-leading pinnum app introduced three new initiatives to assist small businesses.
Starting August 1st, 2014, pinnum will offer small businesses a complete turnkey website solution, fully integrated with the pinnum mobile app. The integration includes email marketing and an optional complimentary merchant account.
"We've worked with local businesses for a while now and many of them know they need to get into mobile, but simply don't know how or don't want to face the super high development costs," commented Mr. John Giaimo, President and C.E.O. of pinnum, Inc. "and believe it or not, there's still about a third of local businesses that don't have their own business website. While some of them may be doing email marketing, we've developed a single pinnum platform that allows a small business to get into email marketing, mobile, and their own custom website for as little as $89 per month. The pinnum team does all the work so a merchant doesn't have to worry about building the website."
The pinnum mobile app platform allows merchants to offer pinnum-only specials to their customers, as well as allowing them to find their offerings on a map from their smartphone when connected through pinnum. And unlike Groupon or Living Social and other daily deal sites, the pinnum customer does not have to share revenue from their sales.
Merchants can also email special offers to their customers through the pinnum app, through a single dashboard that's both easy to use and trackable.
Ms. Pamela Peretz, owner of two day spas in Steamboat Springs, Colorado, agrees. "Our local newspaper has a daily deal site, but it seems like every month they have another offer from a competitor. It does very little to generate loyalty, not to mention that we have to give them a large cut of our sales. What I like about pinnum is that we can market to our own customers, build loyalty, and generate business in our slower months without having to share the revenue or worry about getting a customer that's only daily deal price shopping".
The pinnum mobile app also helps consumers as a family-friendly safety app. You can allow the app to see where other people in your network are on a map, or go "stealth" if you don't want to be seen. It's nice to know that your spouse and kids are safe. And you control the settings.
The company has seen so much early success that they are undergoing a round of fundraising through Fundable.com. This new revenue will allow pinnum to expand even more rapidly due to the early success and adoption of pinnum.
For more information, please visit pinnum.com. For investment opportunities, please contact greg(at)pinnum(dot)com or http://www.fundable.com/pinnum.
Contact: John Giaimo
C.E.O., pinnum, Inc.
john(at)pinnum(dot)com
714-528-3779