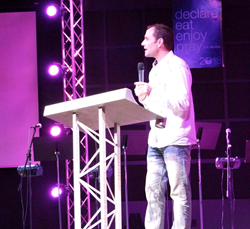 Fort Lauderdale, FL (PRWEB) July 29, 2014
IHOPKC senior leader Corey Stark is coming to Fort Lauderdale to preach a prophetic series on the end-times church at the International House of Prayer (IHOP) Fort Lauderdale Missions Base. The free event is August 8-10, 2014.
"Do you recognize the signs of the times?" asks Jennifer LeClaire, director of IHOP Fort Lauderdale and a senior editor at Charisma magazine. "Awaken your heart to the revelation of Christ and get equipped to understand the end-times church in this special conference series with Corey Stark, who has dedicated his life to raising up burning and shining lamps for Christ."
Click here to register for this free event. You can also pre-register for the IHOP Fire Conference With IHOPKC's Corey Russell in September here.
Prior to Jesus' return, the Holy Spirit is raising up the most powerful and glorious Church the world has ever witnessed. She will emerge as a mature Bride in divine wisdom, godly character and supernatural power, who will partner with Yeshua to confront the most wicked regime known to man at a time unlike any in human history.
This provoking series on the book of Revelation peers into the beauty and majesty of Jesus, as Bridegroom, King and Judge, whose brilliant end-time battle plan brings forth a mature Church, brings in the Great Harvest and brings down the kingdom of darkness in one sweeping series of events!
"You don't want to miss this life-changing revelation of Christ and the end-times church in sessions that begin Sunday night and build line up on line through Sunday morning," LeClaire says. Click here for free tickets. Seating is limited.
Corey Stark is the Director of Short-Term Training Programs and a Senior Leader at the International House of Prayer in Kansas City, where he resides with his wife Meredith and daughters Samantha and Justice. The Starks' life vision is to be "burning and shining lamps," having hearts that are fully alive in the love of God. Their life mission is to awaken hearts to the revelation of Jesus Christ. They desire to call forth and equip a generation of forerunner messengers to prepare the way of the Lord through bold proclamation, combined with a lifestyle of unceasing prayer, fasting, deep commitment to the Word of God and radical allegiance to the Jesus of the bible!
Remember, you can also register for the IHOP Fire Conference with IHOPKC's Corey Stark in September here.
IHOP-Fort Lauderdale is community of believers committed first to pursuing intimacy with God. Our prophetic mandate is to establish a night and day house of prayer in the Fort Lauderdale MSA. At IHOP Fort Lauderdale, we are committed to prayer, fasting, and the Great Commission. As forerunners, we have keen understanding of the end-times and an eternal mindset and both fuel our urgency to reach the lost even as we cry out for revival in South Florida. And as a missions base, our goal is to equip believers for the work of the ministry in this eleventh hour.