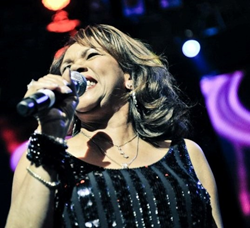 Candi Staton says in the video: You will be my guest at The London Jazz Cafe and I want to bring you on stage and honour you for playing 'Young hearts run free'.
(PRWEB UK) 30 July 2014
Candi Staton a nominated Grammy award singer famous for her classic songs 'Young hearts run free' and 'You've got the love' is on mission to find the man thought to be Stephen Parry, age 42, from Castlefields.
A man by the name of Stephen Parry did not hear music to his ears when he was fined a whopping £400 plus victim surcharge for cranking up his tunes during the day and night. The frustrated neighbours claimed that they could hear the lyrics of songs such as 'I think we're alone now' by Tiffany and 'Young hearts run free' by Candi Staton.
Now, music icon Candi Staton has come back with a special message for the fan in a recent clip uploaded to YouTube. She would like to find Stephen and invite him on stage for her upcoming performance at the legendary Jazz Café in Camden, London! Candi has not been able to reach him personally, she asks everyone to share this video so that she can find him for this amazing opportunity.
If you know Stephen or think you know someone who does… spread the message and use the hashtag #CandiFan.
Watch the video here: http://www.quitegreatmusicpruk.com/music-videos/2014/7/18/candi-staton-sends-special-message-to-fan.html.
Candi will be looking to finally release her 27th album 'Life Happens' in the UK this October, with recent performances on Letterman and an upcoming tour to follow, which includes a performance on the main stage at Bestival.
Live Shows
Sat 30th August – Hull, Bongo Bongos
Wed 3rd September – Dublin, Sugar Club
Sat 6th September – Bestival (Main Stage), Isle of Wight
Mon 8th September – London, Jazz Cafe
Wed 10th September – Glasgow, The Ferry
Further Information about Candi Staton:
http://www.candi-staton.com/
https://www.facebook.com/TheRealCandiStaton
https://twitter.com/IamCandiStaton