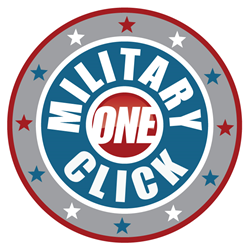 We are so excited to reach this milestone and celebrate with our military community, our amazing sponsors and our families who have supported us in this extremely important mission of reaching the entire military community...
Washington, DC (PRWEB) July 28, 2014
MilitaryOneClick (http://www.militaryoneclick.com), founded and led by Jennifer Pilcher, one of the nation's foremost experts on military families, is a premier online resource for active duty military, reservists, veterans, and their families. A military marketing consultant and military spouse herself, Pilcher and MilitaryOneClick work with clients that include Amazon, MetLife, GM, La Quinta Inns & Suites, Sittercity, Sprint, US Chamber of Commerce, USAA and more.
MilitaryOneClick connects directly with their community daily through militaryoneclick.com, social media, blogs, e-newsletter and boots on the ground events reaching over 2 million people a month.
According to Pilcher, "We are so excited to reach this milestone and celebrate with our military community, our amazing sponsors and our families who have supported us in this extremely important mission of reaching the entire military community with the best resources!"
Jennifer was awarded the SCORE/SBA DC Client of the Year 2013, a Count Me In and Capital One Pitch Contest winner for a 9 month Business Accelerator Program in 2013, alumni of the TechStars Patriot Boot Camp program 2013, and selected as a USAA Influencer for the 2013 Influencer Conference in San Antonio, Texas. MilitaryOneClick was accepted as the first woman owned small business to the Military Spouse Employment Partnership (MSEP) through the Department of Defense in 2012 and selected as a Inc. Magazine Top Military Start Up 2011.
Jennifer is a sought after speaker on best practices for hiring the military community as well as engagement strategies for marketing to the military consumer. She recently spoke at the Inc. Magazine Military Entrepreneur Program at the Inc. 500/5000 awards conference in Washington DC 2013, the Military Spouse Employment Partnership (Office of the Secretary of Defense) annual conference in Washington DC with over 200 CEO's of Fortune 500 companies and MSEP partners 2013, Mobile Development Government Conference, Washington DC 2014 and Everywhere Else Entrepreneur Conference, Memphis TN 2014 and at The Military.com Spouse Summit, Washington DC 2014.
Due to the tremendous advocating Jennifer and the MilitaryOneClick team does for military families, she was awarded the 2013 Military Spouse of the Year for Joint Base Andrews from Military Spouse Magazine. Recently Jennifer became a co-founder of the #KeepYourPromise Alliance, a grassroots campaign asking Congress to restore Military Retirement benefits. The Senate voted unanimously on February 12, 2014 to repeal the cut to COLA due to the #KeepYourPromise movement. They organized millions of Americans to call, write and email their Representative with their social media campaign and the #KeepYourPromise hashtag appeared over 2 million times on twitter in less than two months.
MilitaryOneClick is a Federally Registered Woman Owned Small Business and has a team of over 7 military and civilian spouse experts stationed around the country. They also recently partnered with Mom Central, serving as their military family matter experts and influencers with military social media campaigns for large brands.
MilitaryOneClick continues its mission to be a socially responsible company by working with the community and giving back to military related 501c3 non profits. In 2013 MilitaryOneClick continued their extremely successful Charity Challenge where they highlighted and promoted 3 military related non-profits to the community each month and then the community votes on which one wins their monthly donation. They have donated over $1200 to 12 military non-profits in 2013 and continues the Charity Challenge in 2014.
MilitaryOneClick is a highly regarded and trusted on and off -line community who is proud to work with multiple organizations such as Military Officers Association of America, National Military Family Association, Real Warriors, and the SCORE/SBA programs.
MilitaryOneClick is thrilled to be serving as the newest member on the US Chamber Hiring Our Heroes Military Spouse Employment Advisory Council with fellow companies, La Quinta Inns & Suites, Kraft, Booz Allen Hamilton, USAA, Merck, HCA, Capital One, RAC, Verizon and Toyota to help improve and promote hiring military family members.
For more information, please contact Jennifer Pilcher: jennifer(at)militaryoneclick(dot)com.