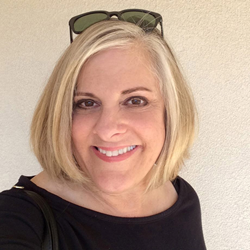 "This course is ideal for anyone who wants to expand their skill set and knowledge base in order to understand today's trends and issues at the consumer level." - Jill Thayer, PhD
San Marcos, CA (PRWEB) July 29, 2014
As part of its cutting edge Digital Arts Certificate program, CSUSM Extended Learning has hired award-winning artist Jill Thayer, PhD to teach a class in calligraphy and typography that explores best practices in visual communication. Dr. Thayer is an internationally recognized designer who boasts more than 30 years' design experience. Her class, "Calligraphy & Typography for Visual Communication," will enable students to gain an understanding of the process and application of typography in contemporary design — both for print and the web.
The course is designed for professional graphic designers and those considering careers in the field. "This course is ideal for anyone who wants to expand their skill set and knowledge base in order to understand today's trends and issues at the consumer level," Dr. Thayer explains. "Visual communication is at the forefront of our interconnected global culture, where the web is a common language with its own symbols and functions that allows us to grow and stay interconnected."
"Creative minds need to have the skills and technical background to succeed in fields like web design, publishing, and animation," explains Mike Schroder, Dean of Extended Learning at CSUSM. "The opportunity to learn from an artist like Dr. Thayer is an excellent example of the kind of hands-on design experience that distinguishes our Digital Arts Certificate program."
Dr. Thayer's course will be offered on Saturday, September 13 from 8:30 am – 5:30 pm at the CSU San Marcos campus, kicking off the semester-long certificate program. Students may sign up for just the individual class, or register for the semester to earn the Digital Arts Certificate. For more information, visit http://www.csusm.edu/el/certificateprograms/comptech/digitalarts or call 760-750-4020.
About CSUSM Extended Learning
As the academic outreach arm of Cal State San Marcos, Extended Learning is a leading provider of professional and continuing education in North San Diego and Southwest Riverside Counties. Offering degree programs, such as a specialized accelerated MBA, as well as both academic credit and noncredit professional development courses, Extended Learning helps individuals and organizations achieve their educational and training goals. For more information about Extended Learning at CSUSM, please visit http://www.csusm.edu/el/.