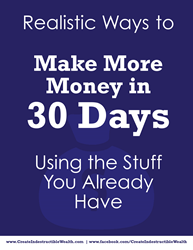 Rancho Cucamonga, CA (PRWEB) July 29, 2014
Paul Mata, CEO of 'Create Indestructible Wealth,' has launched his "Realistic Ways to Make More Money in 30 Days" E-book. The e-book includes a myriad of fast and easy tips that anyone can use to make extra cash. Examples include downloading and utilizing specific phone apps to make money, and utilizing unique free websites that help people monetize the assets they didn't know they had like their talents, extra bedroom, and even unused items they can find in their garage.
After reading the e-book, people will be amazed with how easy it can be to make extra cash. When asked why he created this book, Paul Mata stated, "Most of people's stress comes from money related problems. People grow up thinking that money is hard to come by; however, I am shedding light on this myth by proving to them how easy it can be to make money if they just open their mind and get creative.
To get your free copy of "Realistic Ways to Make More Money in 30 Days" click here or text "Logos" to 555-888.
About Logos Lifetime Enterprises
Logos Lifetime Enterprises mission is to help people lead an abundant and prosperous life with a passion to serve others. They help people of all ages and backgrounds lead better lives by helping them make, sustain, and protect their wealth in any economy.
Logos Lifetime University was founded as developed by Paul Mata who has over 20 years of experience working at a Wall Street Firm as a stock broker and managing principal. After creating more than nine successful companies, Mata decided to establish Logos Lifetime Enterprises in 2012 to teach people everything he learned about creating wealth. Author of the book Indestructible Wealth, Mata is the leading expert on creating holistic wealth. Today Mata focuses on helping people create indestructible wealth through his proprietary 12-step wealth creation system that incorporates growing people's financial assets, as well as their mental and physical assets so they can develop a wealth that can never be destroyed.
For more information visit http://www.CreateIndestructibleWealth.com, like LLE on Facebook and Follow LLE on Twitter.