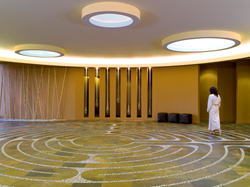 In addition to hosting new activities and classes, Evensong has created a Labyrinth Ritual for guests to experience before enjoying a service.
Green Lake, WI (PRWEB) July 28, 2014
Heidel House Resort & Spa, managed by Marcus Hotels & Resorts, welcomes guests and neighbors to new activities and classes being hosted at Evensong Spa Monday through Friday in August. The schedule includes classes featuring spa products, hiking, labyrinth walks, guided meditation and yoga.
Mondays: Spa Product Class at 1 p.m.
One of Evensong's experienced therapists will teach guests about the use of professional skincare products from lines such as Eminence, Kerstin Florian and Farmhouse Fresh. Guests will learn the benefits of routine skin care, which skin type they fit into and which products will give desired results. Each class is complimentary. Reservations are not required.
Tuesdays: Heidel Hike at 8 a.m.
This leisurely, two-mile walk around Green Lake is great for fresh air, exercise and acquainting yourself with present-day Green Lake happenings as well as local history. The Heidel Hike, complimentary, will be guided by an Evensong associate. Reservations are not required.
Wednesdays: Labyrinth Walk at 10 a.m.
The 11-circuit labyrinth is the focal point inside Evensong. After a short introduction on the history and the use of labyrinths, guests will walk the labyrinth to quiet the mind, find balance and encourage meditation, insight and celebration. Reservations are not required.
Thursdays: Guided Meditation at 10 a.m.
This session is a great resource for people who are new to meditation and who are looking to live happier, healthier, more peaceful lives. Practicing meditation has the ability to eliminate stress as well as calm the nervous system. The guided meditation session is complimentary and reservations are not required.
Fridays: Yoga at 6 p.m.
Experience an hour-long, easy-going class ideal for cultivating and maintaining a strong foundation in yoga. Alignment, yoga breathing and mindfulness will be taught in basic versions of yoga poses during this time. Experience is not required and yoga mats will be available. This yoga class at Evensong costs $10 per person and reservations are required.
In addition to hosting new activities and classes, Evensong has created a Labyrinth Ritual for guests to experience before enjoying a service. The Labyrinth Ritual assists in clearing the mind and transforming the body into a state of tranquility.
For years, labyrinths have been used as tools for personal, psychological and spiritual transformation. Generally there are three stages to the walk: releasing on the way in, receiving in the center and returning; that is, taking back out into the world that which you have received.
Upon completion of the Labyrinth Ritual, guests can continue their peace and quiet in the relaxation room where they will be greeted by their Evensong service provider.
For more information, or to book your spa appointment, please call 920.294.3347 or visit http://www.evensongspa.com.