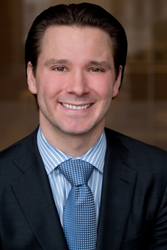 Chicago, IL (PRWEB) July 28, 2014
Patrick A. Salvi II, a partner at Salvi, Schostok & Pritchard P.C. has been honored by the American Association for Justice (AAJ) with the Wiedemann and Wysocki Award. The national award recognizes lawyers for their devotion to the association and their work to improve the civil justice system.
"I am honored to accept this recognition," said Patrick A. Salvi II. "I look forward to seeing AAJ going forward in furtherance of our clients and society's goals."
Patrick Salvi II has been an active member of the AAJ, holding several leadership roles including serving on the Board of Governors for the past three years. Mr. Salvi is very active in the legal community and was also recently honored by the Illinois Trial Lawyers Association with their President's Award for his extraordinary service and dedication to the organization.
The Wiedemann and Wysocki Award is named in honor of Fritz Wiedemann and James Anthony Wysocki, two attorneys and active AAJ members who died in a plane crash. The award recognizes members who have carried on their legacy by demonstrating a deep commitment to the highest standards and to those who have been passionately committed to the principles of the civil justice system and AAJ's Mission.
Mr. Salvi was presented with the award on July 27 at AAJ's annual conference at Leadership Breakfast at the Baltimore Hilton Hotel in Baltimore, MD.
About Salvi, Schostok & Pritchard P.C.
Salvi, Schostok & Pritchard P.C. is a leading Chicago personal injury firm with offices in Chicago (22 West Washington Street, Suite 1600, Chicago IL 60602) and Waukegan (218 North Martin Luther King Jr. Avenue, Waukegan, IL 60085). In addition to representing clients in catastrophic personal injury, medical malpractice, aviation and product liability cases, the firm focuses on car and truck accidents, airplane and train accidents, construction injuries, birth injuries, brain injuries, unsafe properties and animal attacks. The firm has obtained more than $900 million on behalf of its clients in personal injury and wrongful death cases, including 200 multi-million dollar verdicts or settlements. For more information, call (312) 372-1227.
About The American Association for Justice
The American Association for Justice (AAJ) promotes a fair and effective justice system and supports the work of attorneys to ensure that any person who is injured by the misconduct or negligence of others can obtain justice in America's courtrooms, even when taking on the most powerful interests. With members worldwide, and a network of U.S. and Canadian affiliates involved in diverse areas of trial advocacy, AAJ provides lawyers with the information and professional assistance needed to serve clients successfully and protect the democratic values inherent in the civil justice system.