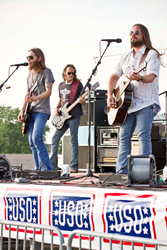 It was amazing to go on our first USO tour and get to play for these amazing men and women in uniform.
Arlington, VA (PRWEB) August 01, 2014
Twitter Pitch: @BlackberrySmoke brought good tunes and #USOmoments to airmen in the Midwest.
While on a week-long tour with the USO, Blackberry Smoke performed their southern rock hits for hundreds of troops and their families. The band helped the USO create meaningful moments at Air Force bases in North Dakota, Montana and Missouri. The mission of USO tours is to bring troops moments of entertainment, life-changing experiences and relief from the hardships of separation from loved ones.
Details:

Blackberry Smoke enjoyed time with hundreds of airmen stationed at Minot Air Force Base, N.D., Malmstrom Air Force Base, Mont. and Whiteman Air Force Base, MO.
This trip marks the first USO tour for the southern rock band.
This USO tour brought special moments to our nation's men and women in uniform. Activities included playing three USO concerts, a demo with K9 military working dogs, meet and greets with troops and their families, dining with troops and signing autographs.
Blackberry Smoke is a southern rock band that has performed headliner and supporting acts for Zac Brown Band, Eric Church, ZZ Top and Lynyrd Skynard. Based out of Atlanta, the band includes lead vocalists and guitarist Charlie Starr as well as Richard Turner, Brit Turner, Paul Jackson and Brandon Still. In addition, Richard and Brit Turner share a personal connection to the Air Force because their father served as a Colonel.
The USO's year-round "Every Moment Counts" campaign invites Americans to join in creating important moments for troops and their families. From holidays and children's births to sports games and date nights, our troops miss numerous everyday moments like this when they are deployed.
Quote:
Attributed to Charlie Starr:
"It was amazing to go on our first USO tour and get to play for these amazing men and women in uniform. It was a great experience. I just hope they know how thankful I am for their service."
Attributed to Richard Turner:
"What an awesome opportunity to be able to give our troops some entertainment and tell them thank you. Since my dad served in the Air Force I was definitely excited to go on this USO tour, but I did not realize how meaningful it would feel. Our troops sacrifice so much and I will forever be grateful for that."
Attributed to Brit Turner:
"Each USO concert was a special moment. This whole USO tour was an amazing way for us to show the troops who protect our freedom that we are so thankful for their service."
Multi-media:
USO Photos: http://bit.ly/1qGKrNW
###
About the USO
The USO lifts the spirits of America's troops and their families millions of times each year at hundreds of places worldwide. We provide a touch of home through centers at airports and military bases in the U.S. and abroad, top quality entertainment and innovative programs and services. We also provide critical support to those who need us most, including forward-deployed troops, military families, wounded warriors, troops in transition and families of the fallen. The USO is a private, non-profit organization, not a government agency. Our programs and services are made possible by the American people, support of our corporate partners and the dedication of our volunteers and staff.
In addition to individual donors and corporate sponsors, the USO is supported by President's Circle Partners: American Airlines, AT&T, BNSF Railway, Clark Construction Group, LLC, The Coca-Cola Company, Grand Canyon University, JCPenney, Jeep, Johnson & Johnson, Kroger, Northrop Grumman Corporation and TriWest Healthcare Alliance and Worldwide Strategic Partners: BAE Systems, BIC, The Boeing Company, ConAgra Foods, FedEx, Lockheed Martin, Microsoft Corporation, Procter & Gamble, TKS Telepost Kabel-Service Kaiserslautern GmbH & Co. KG and Wawa Inc. We are also supported through the United Way and Combined Federal Campaign (CFC-11381). To join us in this important mission, and to learn more about the USO, please visit uso.org.