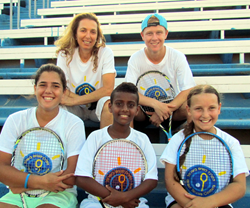 New York, NY (PRWEB) July 30, 2014
In its continuing quest to "empower Israel's children…beyond tennis", the Israel Tennis Centers Foundation (ITC) proudly announced its August 2014 exhibition schedule. This includes a series of fundraising events in the following US cities:
Chautauqua, NY – Wednesday, August 13th
Westhampton Beach, NY – Sunday, August 17th
Milwaukee, WI – Wednesday, August 20th
Tiburon, CA – Saturday, August 23rd
La Jolla, CA – Sunday, August 24th
A diverse team of Israeli players and coaches will be flying to the U.S. to meet members of these communities interested in learning more about the current conflict and how the ITC centers have played an integral role in keeping them safe and secure. Hundreds of children from southern ITC locations have been able to travel to northern centers, away from the blare of sirens and the threats of rocket attacks from Hamas. During this crisis, the goal has been to provide a caring and nurturing environment for disadvantaged Israeli children of all backgrounds, a place where they can continue to learn essential life skills through the sport of tennis.
ITC programs go far beyond helping children become better tennis players. The real focus is becoming better human beings. Through its social impact programs, a wide range of children are served, including youth at risk, immigrants and children with special needs, from autism and ADHD to Down Syndrome as well as those with developmental and physical disabilities. Tennis has the unparalleled ability to bring together children from different religions in coexistence programs, promoting understanding, cooperation and friendship on and off the court.
"Our events in August will really give all those who attend a chance to hear some incredibly inspiring stories from the children themselves," said Jacqueline Glodstein, ITC Vice President/Global Development. "It's all about serving a better future for youth of all backgrounds, and we need to support them in every way for their sake and for the whole of Israel."
The Israeli delegation includes 11 year old Oshri, a member of the High Performance Program at the Marjorie Sherman Israel Tennis Center in Ashkelon. Located in the southern part of Israel, he has endured countless rocket attacks and scrambling to bomb shelters in fifteen seconds for safety. Oshri made Aliyah to Israel from Ethiopia with his family in 2011 and, despite the latest conflict, dreams of being the first Ethiopian player to represent Israel in Davis Cup tournaments. His story is one of courage and determination in the face of turmoil and war.
For more information about the upcoming exhibitions, please contact Global Director of Marketing Richard Weber at 646-884-7410 or rweber(at)israeltenniscenters(dot)org.
About the Israel Tennis Centers Foundation:
The Israel Tennis Centers Foundation (ITC) is a 501 (c) 3 not-for-profit organization that works tirelessly through the medium of sport to enhance the development of Israeli youth. Since opening its first center in Ramat Hasharon in 1976, the ITC has helped over 400,000 children, many of whom come from outlying development towns throughout Israel. The ITC's 14 centers stretch from Kiryat Shmona on the Lebanese border in the North to Beer Sheva bordering the Negev Desert in the South. http://www.israeltenniscenters.org.
Contacts:
Jacqueline Glodstein
ITC Vice President/Global Development
646-884-7450
jglodstein(at)israeltenniscenters(dot)org
Richard Weber
ITC Global Director of Marketing
646-884-7410
rweber(at)israeltenniscenters(dot)org