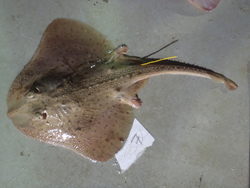 "If our proposed study is as successful as our previous otter trawl project, it could result in increased revenues to the commercial fishing industry."--James Sulikowski, Ph.D.
Biddeford, ME (PRWEB) July 28, 2014
A University of New England(UNE) researcher and colleagues have been awarded a $1.8 million National Oceanic and Atmospheric Administration (NOAA) grant to study incidental mortality of winter skates in the monkfish commercial fishery.
The grant, funded by NOAA's Monkfish Research Set Aside Program, awards $1.8 million for UNE and its partners to study "Evaluating the Condition and Discard Mortality of Winter Skate, Leucoraja ocellata, Following Capture and Handling in the Sink Gillnet Fishery." Principal investigators on the project are James Sulikowski, Ph.D., a professor in UNE's Department of Marine Sciences, and commercial fisherman Captain Ted Platz. They will be partnering with John Mandelman, Ph.D., from the New England Aquarium, David Rudders, Ph.D., of the Virginia Institute of Marine Science, and Dr. Hugues Benoît from the Department of Fisheries and Oceans in Canada. The researchers will investigate the rate of incidental mortality of winter skates exposed to commercial sink gillnets.
Monkfisherman are currently under federal regulations that limit their days at sea and restrict their catch limits, in part because of the assumed high mortality rate of the winter skates that are discarded from their nets. Sink gillnetting, a common fishing method using vertical panels of netting, is one of two principal methods of catching monkfish for the commercial market. While skate discard mortality rates from otter trawl fishing, the other commercial capture method, have been previously studied by Sulikowski and Mandelman, rates associated with sink gillnetting have yet to be determined. Due to this lack of knowledge, a conservative 50 percent mortality rate is currently being used in the management process.
Understanding discard mortality rates is very important, as the data can be applied to overall discard estimates in a fishery, enhancing the resolution of mortality estimates and biomass stock indices, while aiding in the establishment of landings limits for given species/fisheries. To quantify the immediate and short-term delayed mortality rate of winter skates that have been discarded from sink gillnets, Sulikowski and Platz will analyze the impacts of fishing conditions (season, depth, and water and air temperatures); handling protocols; and biological characteristics, such as size and sex, of captured skate.
A thorough understanding of winter skate mortality factors will enable researchers to refine mortality estimates and could lead to improved chances of successful release.
Sulikowski stated,"If our proposed study is as successful as our previous otter trawl project (Mandelman et al., 2013), it could result in increased revenues to the commercial fishing industry."