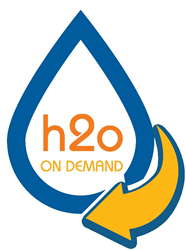 Our customers appreciate the bottled water. Custom labeling reinforces our brand. Convenient pallet delivery simplifies the re-order process.
Polar, Wisconsin (PRWEB) July 30, 2014
Langlade Springs' new H20 on Demand program provides custom bottled water where, when and how business owners want it. Personalized bottled water is a great marketing tool, whether used for giveaway or for resale. H20 on Demand makes it cost effective and easy to manage a custom bottled water program with three key benefits.

Huge savings with truckload pricing—the initial investment is the minimal cost to design and print bottled water labels
Space savings with delivery by the pallet—custom water can be ordered when it's needed, then made to order and shipped in just the amount of pallets needed
Control cash flow—water is paid for when it's ordered, not in advance
Langlade Springs provides high quality natural alkaline mineral spring water to customers through private label and branded programs across the U.S. and internationally. Centrally located in Northern Wisconsin, Langlade Springs manufactures and bottles specialty water and beverages right at the single source.
For more information, visit http://www.langladesprings.com/co-packing/h20-on-demand/