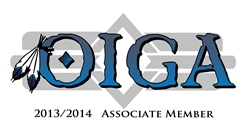 iView Systems is pleased to join OIGA as Associate Members and supporters.
Oakville, Ontario (PRWEB) July 29, 2014
iView Systems, leaders in security reporting and management solutions for the gaming industry, is pleased to announce membership in the Oklahoma Indian Gaming Association (OIGA). As an associate member, iView Systems is a valuable and vital part of the organization, sharing industry expertise in security and risk management, as well as a partner in the progress of Indian gaming as a whole.
The Oklahoma Indian Gaming Association, established in 1986, is a non-profit organization of 26 Indian Nations with other non-voting associate members representing organizations, tribes, and businesses engaged in tribal gaming enterprises from around Oklahoma. The common commitment and purpose of OIGA is to advance the welfare of Indian peoples - economically, socially and politically. In 2009 Oklahoma led the nation in the growth rate of tribal gaming.
In support of OIGA, iView Systems will exhibit at the 20th Annual Convention & Tradeshow, at Cox Convention Center, Oklahoma City, August 11-13, 2014 where more than 2,500 industry professionals from all over the country will attend this premier event that is specifically devoted to all aspects of Indian gaming.
"iView Systems is looking forward to exhibiting at OIGA's Annual Convention and Tradeshow, where we will be showcasing our security management solutions and expertise in security and surveillance reporting, visitor management, and identification solutions", states Jonathan Fields, Sales Manager, iView Systems. "iView Systems has been servicing the security and surveillance needs of casinos and Indian gaming for over 12 years. During this time, iView has developed its' gaming solutions based on the regulations and requirements of the gaming industry, offering a comprehensive suite of security and surveillance reporting solutions.
About iView Systems
iView Systems specializes in the development and deployment of a complete integrated and converged physical security information management (PSIM) reporting platform for security, surveillance and loss prevention environments. iView Systems addresses the needs of multiple industries for a single desktop incident management and reporting system, providing both an incident and subject centric approach. iView Systems has rapidly attained industry recognition for its unique solutions and provides incident reporting, dispatch, identification and visitor management platforms and services to the global security marketplace, including the gaming, banking, corporate security and other loss prevention environments. iView Systems is located in Oakville, Ontario, Canada.