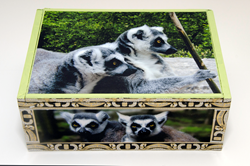 "The goal of the project is not only to educate the public about endangered species, but also to educate them about what we can do to support their habitat and their survival." - Paola Bari
Myakka City, FL (PRWEB) July 30, 2014
Rhinebeck, NY artists and retailers are collaborating to raise public awareness for the plight of endangered species, focusing on cheetahs and lemurs. The KeepSafe Project is an annual fundraiser to support the work of the Cheetah Conservation Fund (CCF) and the Lemur Conservation Foundation, organizations dedicated to the conservation of these endangered species.
Local wildlife conservation activists have joined with the Trevor Zoo at the Millbrook School in Millbrook, New York, to form the KeepSafe Project. With the support of businesses in the Hudson Valley, this initiative is dedicated to raising public awareness of the need to conserve endangered species and their natural habitat as part of maintaining the overall health of our planet. Our slogan "The Keep Safe Project: Extinction is not an option" expresses the urgency of this effort.
Visual artists from the Hudson Valley and beyond have been personally invited to create and donate boxes with themes of wildlife conservation. The gallery of completed boxes grows daily, and can be viewed online at http://www.keepsafeproject.com. The "keep safe" boxes, fashioned out of repurposed cigar boxes, will be exhibited for public viewing throughout the region, and then auctioned off at Millbrook School, Millbrook, N.Y. on October 18, 2014. The elaborately decorated boxes will begin their tour in the village of Rhinebeck on August 30. Local businesses including Betsy Jacaruso Studio & Gallery, Hammertown, Evoke Style, Winter Sun & Summer Moon, will display the boxes prominently in the weeks leading up to the public auction.
The KeepSafe Project is a joint effort between local volunteers and the Trevor Zoo at Millbrook School, a leading conservation organization, now in its 78th year of promoting a greater understanding of environmental issues. "The Keep Safe Project: Extinction is not an option".
About Lemur Conservation Foundation: Lemur Conservation Foundation (LCF) was established in 1996 by Penelope Bodry-Sanders. LCF is a leader in the conservation and preservation of the primates of Madagascar through programs dedicated to observation oriented research, education, and lemur propagation, with a commitment to infuse art into all of our mission programs. LCF is an American Association of Zoological Parks and Aquariums accredited private, 100-acre facility based in Myakka City, Florida. Our current lemur population of 47 animals thrives in naturalistic free ranging habitats ranging in size from 9 to 13 acres, and smaller enclosures for animals in need of a more specialized environment. LCF is a respected voice for science, conservation, education, art, and lemurs, the iconic image of the conservation challenges and environmental stewardship facing Madagascar and the world.