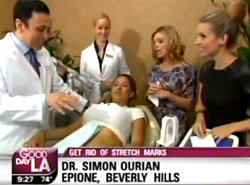 Los Angeles, CA (PRWEB) July 29, 2014
According to a July 22, 2014 report posted on the website of Time Magazine titled "From Kim's Butt to Angelina's Lips: The Plastic Surgery Procedures Women Want," Kim Kardashian's butt is the celebrity feature most requested by women seeking cosmetic surgery. Other celebrities and their features include Beyoncé's butt, Jennifer Lawrence's nose, and Angelina Jolie's cheeks and lips. This information is based on data collected by an online community focused on plastic surgery procedures. The site scanned user comments and questions for celebrity names and Kim Kardashian's name was mentioned more than any other. The site admits that the evidence is anecdotal rather than scientific. (See: goo.gl/hCLuO7)
"It's not very common for our clients to request specific celebrity features," says Dr. Simon Ourian, Medical Director of Epione Beverly Hills, "and the report notes that the majority of people do not want to look like a celebrity. My goal is to provide natural-looking results, and doing a procedure with the specific objective of looking like another person is the opposite of what I'm trying to achieve."
According to the Time Magazine report, most women who want to get a butt like Kim Kardashian undergo a Brazilian Butt Lift, a procedure that involves removing fat from the thighs, arms, or abdomen and transferring it to the buttocks. It's not unusual for certain cultural events to spark an interest in celebrity requests. For example, Angelina Jolie's appearance in the film Maleficent caused a spike in the number of requests for her cheekbones.
"I'm not a proponent of distorting someone's features so that they no longer look like themselves," says Dr. Ourian. "On the other hand, when a celebrity has a treatment, such as the 'mommy makeover' Krista from the Bachelorette underwent, it draws attention to a procedure that can benefit many women."
Dr. Ourian has been a pioneer in laser technology and non-invasive aesthetic procedures including Restylane, Juvéderm, Radiesse, Sculptra, and CoolSculpting. These treatments are used for the correction or reversal of a variety of conditions such as acne, acne scars, skin discoloration, wrinkles, unwanted fat, stretch marks, varicose veins, cellulite, and others. More information about plastic surgery can be found on Epione's website.