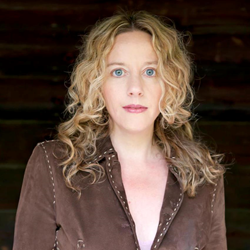 Fairfield, CT (PRWEB) July 28, 2014
Fairfield Theatre Company welcomes Amy Helm to StageOne at 7:30 p.m. on Sunday, July 27. With her deep musical roots and a lifetime of exposure to the finest voices in American music, Amy Helm combines her stunning voice with many other creative gifts. She's a spellbinding artist who moves easily through a broad range of musical styles.
The daughter of music legend Levon Helm and singer-songwriter Libby Titus Fagen, Helm exerts a powerful voice that can both rock and soothe. Whether she's singing traditional gospel, blues standards or her own heartfelt compositions, Helm continues to prove herself as a musician on both mandolin and guitar. She has shared the stage with artists including Mavis Staples, Emmylou Harris, Joan, Dr. John Warren Haynes, The Wood Brothers, Donald Fagen and Hubert Sumlin, and impressed not only audiences, but also her peers.
Helm has a lengthy resume that includes many years of singing and playing alongside her father, Levon. The pair conceived, launched and perfected the Midnight Rambles, one of the most intimate and beloved musical happenings of our time. Helm and her late father shaped The Midnight Ramble into an event that still attracts fans and musicians from around the world.
Amy Helm is coming now to the intimate StageOne in support of her first solo record. Come see this founding member of the roots band, Ollabelle, as she takes center stage for a night of music that will rock the souls and melt the hearts of everyone in the audience.
Amy Helm
Date: Sunday, July 27
Doors: 7 p.m.
Show: 7:30 p.m.
Venue: StageOne 70 Sanford St., Fairfield 06824
Tickets: $38 Adv. Members Discount $3
Buy tickets: Box Office: 203-259-1036 or reserve online at http://www.fairfieldtheatre.org
About the company:
Fairfield Theatre Company is a highly-acclaimed non-profit performing arts organization located in the heart of downtown Fairfield, Connecticut. FTC presents nearly 250 performances and concerts each year featuring outstanding national talent on FTC's StageOne in Fairfield, The Klein Auditorium in Bridgeport, and the Norwalk Concert Hall in Norwalk. FTC's intimate 200-seat StageOne concert venue is widely recognized as being one of the best places to see a live performance in the region. FTC is dedicated to providing the highest-quality arts, live entertainment and educational experiences to the communities it serves.