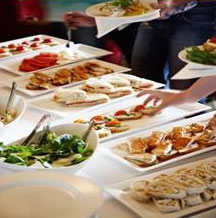 Rodney Kaufman and his team have always exceeded our expectations and have always been most accommodating and reassuring in making every event enjoyable and outstanding.
Toronto, Ontario (PRWEB) July 29, 2014
The dog days of summer are in full swing but Rodney Kaufman, CEO and Executive Chef of Toronto's Impeccable Taste Catering is already thinking about corporate holiday parties. "The summer months are actually the best time to plan ahead for catering corporate events," says Kaufman. "By booking your tastings now, you'll know exactly what you need when it comes time to craft the menu for your holiday party. It really takes the stress out of it and allows clients to enjoy the process."
It's not just holiday parties that need to be planned ahead. Quarterly events are increasingly popular, with many companies in Toronto putting on catered events to discuss goals and objectives for the final push of the year. "September is a very busy time for corporate clients, and by interviewing a number of caterers over the summer months they will be poised to have variety at their fingertips," Kaufman adds. Having several caterers to rely on means removing the guesswork from booking and organizing a catered event.
Tastings help to narrow down menu choices to a handful of perfect items that are guaranteed to please even the most discerning and eclectic of tastes. Impeccable Taste Catering can accommodate special dietary requests, including gluten-free, vegan and Halal options. The experienced Impeccable Taste team can also recommend menu items based on what will be fresh and seasonal for the upcoming fall and winter months, allowing clients to craft a catered event that boasts only the best in local produce.
Make it Christmas in August and say goodbye to event planning headaches down the road. Book an interview and tasting with Impeccable Taste Catering soon.
Impeccable Taste Catering offers catering services in Toronto and works with private individuals, companies in the Greater Toronto Area markets. Services include expert event planning and catering for casual lunches, seminars, conferences, product launches, release parties, corporate affairs and weddings, among other social events. Visit http://www.itcatering.ca for more details.