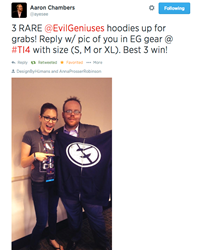 "Everywhere I look there are EG shirts! [I've] spotted at least 15 people in DBH EG shirts at SEATAC so far..."
Chico, CA (PRWEB) July 28, 2014
Design By Humans (DBH) partnered with eSports team Evil Geniuses (EG) back in December 2013 to create an amazing apparel sponsorship. This unique partnership has allowed DBH to offer Evil Geniuses fans Official EG Jerseys and Tees. This year eSports team Evil Geniuses was a top contender at TI4 in Seattle (The International DOTA 2 Championships). DBH descended on Key Arena in Seattle to support them in person with a ridiculous giveaway - 1,000 Limited Edition EG t shirts!
From Friday July 18th - Sunday July 20th, Design By Humans hit the pavement at TI4 to give out 1,000 Limited Edition EG T Shirts. Ecstatic EG fans checked the DBH Twitter Feed (@Designbyhumans) to find specific giveaway locations and entered to win Exclusive EG Hoodies. Design By Humans was joined by DOTA broadcaster Aaron Chambers (@ayesee) who helped with the exclusive giveaway. EG fans also took up the challenge to post the best TI4 photo and headed to Twitter to share their EG gear.
In addition to the giveaways in Seattle, Design By Humans also sent out Limited Edition Tees to Pubstomp events in San Francisco, New York City, and DC! Fans watching the TI4 competitions at these locations had the chance to win some of the Limited Edition tees to show their support for Evil Geniuses.
The TI4 DOTA2 Championships
16 eSports teams competed at the Key Arena in Seattle for a cash prize, which topped $10.9 Million USD! The TI4 Main Event ran from July 18th – July 21st, where team Newbee was victorious. Vici Gaming grabbed second place, and Evil Geniuses placed third. You can learn more about the tournament by visiting the official DOTA2 website.
DOTA 2
DOTA 2 is a multiplayer online battle arena video game that was released in 2013 as sequel to Defense Of The Ancients. During each game, two 5-player teams compete to destroy each other's "Ancient" while individual players focus on developing their own character's skills. DOTA 2 was praised by critics for its enhanced graphics and rewarding gameplay despite its steep learning curve. DOTA 2 has become the most actively played game on Stream, with over 800,0000 players daily.
Evil Geniuses eSports Team (EG)
Evil Geniuses is a highly recognized gaming organization with skilled teams in StarCraft 2, League of Legends, DOTA 2, various fighting games, and recently, Call of Duty. This year, EG players UNiVeRsE, Arteezy, Fear, ppd and zai will be competing at TI4. Fans can shop Official Alliance Jerseys in their DBH Collective by clicking here.
About Design By Humans
Design By Humans was started in 2007 with the simple vision of bringing artists from around the globe together to give them a platform to produce wearable art that tells a story, strengthens humanity, and inspires life through creativity and design. The DBH Collective initiative is inspiring amazing artists and giving them a unique foundation to share artwork through a personal online storefront. With over 7,000 unique designs on T shirts, Tanks, Sweatshirts, Phone Cases and Art Prints, DBH offers their customers truly customizable, high-quality products.
###
If you'd like more information about this topic, please call +855 333 9836 x 302 or email press(at)designbyhumans(dot)com.