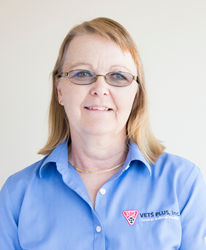 Menomonie, Wis. (PRWEB) July 30, 2014
Connie Kunkel has joined Vets Plus, Inc. as Inside Sales Representative for the companion animal sales division. She will be communicating directly with potential partners as the animal nutrition manufacturer grows its nutraceutical supplements business.
Most recently, Kunkel worked in inside sales for Patterson Veterinary where she was responsible for establishing and maintaining sales relationships with veterinary clinics. She has held similar customer service and sales roles, as well as purchasing, in the animal health industry throughout her career.
"Connie knows our industry already," said Dale Metz, Director of Companion Animal Business at Vets Plus. He continued, "She's able to step in, already understanding our customers, our business, and the kind of nutritional products we are making. Connie fits right in with our sales team to support our growth."
Kunkel holds an Associate degree in Veterinary Technology and Bachelors in Animal Science. She has also studied at the Medical Institute of Minnesota and participated in a partnership program with Louisiana State and LA SPCA. She and her husband live in Amery, Wis.
About Vets Plus, Inc.
Vets Plus, Inc. (VPI), located in Menomonie, Wisconsin, is a leading manufacturer of health and nutritional supplements for both food and companion animals. With over 20 years of experience, Vets Plus creates custom formulations for contract manufacturing of innovative probiotic, prebiotic, nutritional, and nutraceutical products in a wide variety of feeding forms. Vets Plus is proud of its continued growth into a leader within the animal health industry and ability to manufacture several hundred products while maintaining ISO-9001:2008 and NASC certifications and cGMP and AAFCO compliance. Vets Plus is a member of the American Pet Products Association (APPA).
###