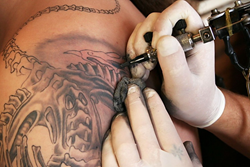 Burbank, CA (PRWEB) July 29, 2014
Business Insurance USA announced today, the release of a new and industry specific general liability insurance coverage for tattoo parlors. This new coverage is designed to meet the average risks needs of tattoo parlors large and small, while remaining available at the most affordable rates.
"Tattoo parlors are open to the public and thus open to many types of liability risks," stated Gary Fisher, Business Insurance USA's Executive Director. "When you have people going in and out of your business establishment regularly, there is always the chance that an accident will happen. When an accident hurts someone, they're likely to sue the tattoo parlor as a way to get their medical bills paid. General liability is the insurance coverage a tattoo parlor needs to address this type of risk along with many others."
General liability insurance is general coverage that helps protect tattoo parlors when unexpected events occur. If the event causes bodily injuries, property damages or similar problems, this coverage helps to pay the associated bills that may arise.
General liability insurance provides protection by paying for the costs associated with lawsuits that arise due to accusations of fault. The coverage pays for legal defense and normal related legal costs that are required for tattoo parlors to defend themselves in court. If the lawsuit is lost, this insurance also pays required settlements and damages that are awarded by the courts.
The primary risks General Liability insurance covers includes: Physical injuries, personal property damages, advertising injuries, personal injuries and tenant property damages.
Bodily injuries occur when someone is physically harmed due to an accident on the business premises. Personal property damages often happen in a similar form, while a customer is visiting the tattoo parlor for instance. Advertising injuries often involve accusations of fraud or infringement with the tattoo parlor's advertising, and personal injuries involve allegations of slander or libel against another person or company. If the tattoo parlor rents or leases the building in which the business is operated from, general liability insurance also provides protection against allegations of damages to that property that may be filed by the building's owner.
About Business Insurance USA
Business Insurance USA is a commercial insurance provider based in southern California, USA. Licensed to provide business coverage in twenty states, the company strives to provide custom tailored insurance policies designed to meet a company's specific industry needs. Insurance lines available include general liability, professional liability, business owners policies, business auto insurance, workers compensation insurance, surety bonds and more.
For more information, visit http://www.businessinsuranceusa.com/tattoo-piercing-parlor-business-insurance.