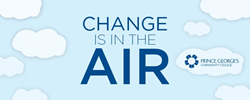 We take our commitment to serving very seriously, and this forward-thinking policy to make PGCC a smoke/tobacco-free environment is in line with that commitment.
Largo, MD (PRWEB) July 29, 2014
Prince George's Community College today announced its brand new campaign, Breathe Free, which supports efforts to create a smoke/tobacco-free environment and decrease the risk factors that contribute to preventable diseases associated with smoke and tobacco use. An institution known for its deep-rooted stance in the surrounding community, the College, in cooperation with its Health Education Center, recognized the growing rate of smoke/tobacco-related illnesses adversely impacting county residents, and made the concerted commitment to implement a new College-wide policy. The initiative provides cessation and wellness materials, screenings and workshops. The smoke/tobacco-free policy takes effect on September 15, 2014.
"We take our commitment to serving very seriously, and this forward-thinking policy to make PGCC a smoke/tobacco-free environment is in line with that commitment," said Charlene M. Dukes, PGCC president. "To ensure the 'Breathe Free' program meets its goals of reducing and eliminating the number of individuals, employees, students, and visitors who smoke or use tobacco products, including electronic devices, we partnered with Dimensions Healthcare Systems, CareFirst Blue Cross/Blue Shield, Kaiser Permanente, and other health-focused organizations to provide on-going programs and information to assist individuals during and throughout this transition."
Former Prince George's County Executive, the late Wayne K. Curry, knew all too well that cigarette smoking disproportionately affects African Americans, who have a higher risk of lung cancer and death resulting from lung cancer, than other smokers. Curry advocated for better educational programs for African Americans in order to raise awareness about lung cancer and its mortality rates, particularly among African Americans. Tobacco use is the leading preventable cause of death, disease and disability in the United States, according to the Center for Disease Control and Prevention.
Recently, more and more colleges and universities in Maryland, and throughout the nation, have implemented similar policies on their campuses. The Surgeon General maintains that tobacco and the resulting smoke causes cancer. Moreover, reports from the World Health Organization convey that there is no safe level of secondhand smoke. PGCC has taken a significant step by officially putting a policy in place that educates the college community, while providing a cleaner and healthier environment.
To learn more about the College's Breathe Free campaign and smoke/tobacco-free policy, please contact Jennifer Colter at Prince George's Community College (Largo campus) by calling (301) 322-0157.
Prince George's Community College is a National Center of Academic Excellence and White House Champion of Change. Established in 1958, Prince George's Community College provides transfer and career programs that help students transition to four-year colleges and universities and prepares them for the workforce. Each year, 40,000+ students take part in more than 200 academic programs and workforce development and continuing education courses. Located in Largo, Maryland, Prince George's Community College has additional sites at Joint Base Andrews, University Town Center in Hyattsville, Laurel College Center, Skilled Trades Center in Camp Springs, and Westphalia Training Center in Upper Marlboro. For more information, visit the college website at http://www.pgcc.edu.