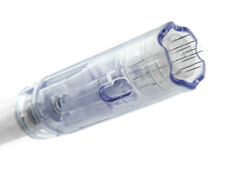 Salt Lake City, UT (PRWEB) October 07, 2014
Derma Pen, LLC, the sole distributor of Dermapen® handpieces, disposable replacement tips and related consumable products in the United States, is releasing the newest, most technologically advanced, single-use tip for the Dermapen device.
The upgraded design and engineered tips come equipped with patent pending SURSPACE™ Technology. One of the most amazing elements of this new and innovative technology is the algorithmically calculated needle placement and positioning, ensuring that the individual micro-needles on each single-use tip are equidistant from the others, providing the most uniform and consistent needling therapy available.
The former Dermapen tip housed a total of 11 micro-needles. The newly designed tip has 12 micro-needles, nine placed around the outer ring, with the remaining three located in the center. The 12 micro-needles are optimally positioned to maximize their distance from one another, mitigating any surface tension and allowing for easier penetration of the skin, while preventing unnecessary epidermal damage.
In addition to the above mentioned components, the updated Dermapen tip also incorporates a scalloped edge designed to eliminate suction and two opposing vent holes that vastly diminishes the possibility of having a backflow of fluids into the body of the device.
With the inclusion of the newest technology and innovative features, Derma Pen, LLC is proud to offer the most advanced, effective and safest micro-needling tips available for the Dermapen on the market today. Derma Pen, LLC will automatically integrate the distribution of the improved disposable tips into their sales channels at the same price of the existing tip. Current Dermapen providers will not have to request the new tips. The existing Dermapen tip will be discontinued.
To request a demonstration from a Dermapen Sales Representative, please Click Here.
SURSPACE™ is a trademark of Dermagen International, LLC. Derma Pen LLC is the sole distributor of SURSPACE™ in the United States. Dermapen® is a registered trademark of Derma Pen, LLC.