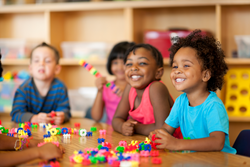 We listened to our customers and focused on value.
Saint Augustine, FL (PRWEB) July 29, 2014
Teachers' School Supply is giving educators a head start on the new school year. Beginning July 21st and running through August 31st, educators will be offered special savings on select classroom essentials. In preparation for the first day of school they are offering educators three innovative ways to save on purchases for their schools.
"Our goal is to help schools start out the 2014-2015 school year with everything they need ready to go when the bell rings," explained Samir Patel, marketing manager at Teachers' School Supply. "For our Back to School Blowout Sale, we listened to our customers and focused on value and convenience." This seasonal promotion includes discounts up to 80% off MSRP on classroom furniture from Correll, Scholar Craft, ECR4Kids and other leading manufacturers.
Awareness that educators are operating under a time crunch is now an important part of sale planning at Teachers' School Supply. Customers can browse their site using ship-by dates of either 2, 5 or 10 days. The Back to School Blowout Sale features a wide diversity of products, from desks and chairs to laboratory tables and art room easels, ensuring that bargain hunting administrators will be able to make Teachers' School Supply their one stop shop. Many items are available for shipping in as little as 2 days to help administrators ensure that their purchases arrive before the school year begins.
This focus on customer experience is the hallmark of Teachers' School Supply's new approach to marketing. Their new promotions also include special savings on the products that teachers use the most. The average teacher spends approximately $500 a year on school supplies, instructional material and other classroom essentials; none of which the staff at Teachers' School Supply believes should be spent on shipping. For a limited time Teachers' School Supply is honoring dedicated educators across the country by offering free shipping on all supply orders.
Schools can also increase their savings by pooling their collective buying power and earning special rewards throughout the year. Teachers' School Supply's innovative Supplies Program pairs each school with an experienced classroom planner who will help ensure they get the very best prices on furniture purchases and help them rack up rewards. Each school also receives a personalized shopping portal, individualized savings codes and special promotions throughout the year. Earning rewards and taking advantage of personalized discounts is as simple as logging into their school's portal and continuing to shop like normal.
Educators can shop for school supplies and equipment online to receive blowout sale pricing or free shipping and can contact any member of the Teachers' School Supply staff at 800-813-5316 to enroll their school in the new Supplies Program.