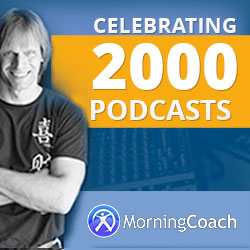 "There's no better way then to start your day with some positive energy. It's a great feeling to be able to reach millions of people in over 100 countries with this amazing technology and message." JB Glossinger
Fort Lauderdale, FL (PRWEB) July 29, 2014
MorningCoach.com, an online personal development program specializing in daily motivational audio podcasting, announced that they have reached episode 2,000 in their program. Since its launch 8 years ago, MorningCoach.com motivational speaker JB Glossinger has been continuously providing listeners with a positive way to start their day.
"Reaching episode 2,000 is proof that the world is ready for positive change. MorningCoach would not have been able to reach this milestone without the support of our listeners from all around the world, and our hard working team. It's such an amazing feeling to hear the testimonials from our members who have been positively affected by our program. This is a true motivator to wake up in the morning and focus on doing 2,000 more episodes. The future has never looked brighter," said MorningCoach founder, JB Glossinger
The personal development field is filled with books, and seminars as go to resources, but there was a void for consistent daily motivation.
The program's dependability and consistency provides members with a daily guidance and support for their personal development. Listeners count on MorningCoach to start their day on the right foot, in order to maintain their self improvement progress.
"People often say that motivation doesn't last, Well, neither does bathing, that's why we recommend it daily," Zig Ziglar
The amount of original content produced up to date is so great that it would take 21 days straight in order to listen to all of the 2,000 episodes. This collection of episodes has become one of the best features of the MorningCoach.com personal development community. Furthermore having access to this ever growing library provides members with an added resource to their over all self improvement process.
It's going to be exciting to see MorningCoach continue its growth in number of episodes, and its positive affect on the world.
About MorningCoach.com: MorningCoach.com was founded with the understanding that we all need daily positive energy and ideas to allow us to manifest the life experience we desire. The mission is to assist in the evolution of consciousness around the world by helping our community manifest more abundance in their lives.
About Founder: J.B. Glossinger, MBA, Ph.D., is an internationally known speaker, author, coach and consultant. His goal is to help people manifest what they want in their business, organizational and personal lives. He is a master of human potential and development, helping individuals and organizations learn how to break through to the next level.
J.B. enthusiastically shares what he has learned from his personal transformations, his corporate and personal experiences, and his MBA and Ph.D. background. He offers a unique perspective, bringing pragmatic approaches to a new and evolving world. His ideas are interesting and fresh, combining the wisdom of the ages with modern science.
J.B.'s energizing podcast reached number one in the iTunes Health category after just three weeks of broadcasting and has been rated among the top 20 in the world. He currently has more than 200,000 people following his different social media accounts.
For more information on motivational speaker JB Glossinger visit Glossinger.com for more on MorningCoach personal development community visit MorningCoach.com or e-mail Luis Rosario Director of Business Development: luis(at)alivefoundation(dot)com.