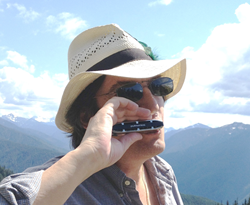 Because of Seydel's extensive distribution network, people everywhere can get the benefits of using a Pulmonica."
Sarasota, FL (PRWEB) July 30, 2014
The Pulmonica is a specially constructed and tuned Pulmonary Harmonica that produces deep, resonant, meditative sounds that can be felt vibrating in the lungs and sinuses. No musical talent is needed to use it – just breathing through the Pulmonica always sounds soothing. "Thanks to a new distribution agreement with Harmonica Techs, Seydel is now selling the Pulmonica around the world," said Dana Keller, PhD, co-inventor of the pulmonary harmonica. "We're excited that more people will be able to use the Pulmonica® to improve their breathing." The Pulmonica is hand-made in Klingenthal, a small village in Germany, by C.A. Seydel Söhne, the world's oldest harmonica manufacturer.
Harmonica Techs and Seydel first crossed paths at the annual meeting of the Society for the Preservation and Advancement of Harmonicas (SPAH), an international gathering of harmonica enthusiasts that meets each August. During the invention process, Dr. Keller worked closely with Seydel to develop the optimal tuning for a pulmonary harmonica for nonmusicians. "Seydel is highly regarded internationally and has extensive global contacts. They have been making harmonicas since 1847 and continue to produce innovative, high-quality products. We couldn't ask for a better partner," Dr. Keller adds.
Both Seydel and Pulmonica will have an active presence at this year's SPAH conference August 5-9 in St. Louis. Harmonica Techs will present a workshop on '12 Reasons to Recommend the Pulmonica to People with Breathing Issues' and will help staff the Harmonicas in Health table. Both companies are official sponsors of this year's event, which is open to everyone and offers outstanding value and entertainment.
Visit http://www.pulmonica.com or http://www.seydel1847.com to learn more about the Pulmonica, which comes with a 30-day money-back guarantee, and is also guaranteed for one full year against manufacturing and material defects. Dr. Keller continues, "People as young as three years old to those past ninety can benefit from respiratory training. The benefits extend thousands of years back to yogic traditions from India. Now, because of Seydel's extensive distribution network, people everywhere can 'discover' the benefits of improved diaphragmatic breathing through the use of a Pulmonica."