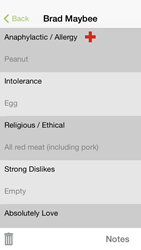 People today worry they will forget about food allergies and intolerances. MyFood solves this problem by allowing users to share profiles of their food allergies, intolerances, and religious or ethical choices with other MyFood users.
Guelph, ON (PRWEB) July 30, 2014
MyFood Limited today announces the release of the MyFood app, part of the first social platform that gives users the ability to create, update, and share profiles detailing their personal food allergies, restrictions, and preferences. Up to date information about a user's food allergies and restrictions will allow people to protect their own health and the health of others.
"Today's world has become a confusing landscape of individual dietary needs. So many people today, particularly children, have severe food allergies. Others are making choices about what they eat based on intolerances, or have ethical or religious restrictions. My wife and I found that we were unable to keep current with the dietary requirements of the people we know. After I was unable to find any existing application that even came close to meeting our requirements, I created MyFood," said Brad Maybee, CEO & Founder of MyFood.
MyFood profiles are easy to create and share. With MyFood, everyone maintains their own profile and updates are shared automatically with their MyFood friends. MyFood also allows for the creation of family relationships between MyFood friends. For family members who don't have their own MyFood accounts, for example children, a user can create and share "local family" profiles. In this way, entire family groups can be shared, making it possible to track the requirements of a friend's family without having to have a direct connection to each member of the family. Even if someone a user knows doesn't yet have a MyFood account, the user can create a local profile for that person so that they can track what they know of the person's dietary restrictions.
The MyFood app is ad-free and is available to download now from the Apple app store for iPhone, iPad, or iPod Touch. MyFood will also soon be available as a web application using the browser on a mobile device or computer. Visit http://www.myfood.io to learn more or to register to be notified when the web application is available.
About MyFood
MyFood is a privately held Canadian corporation based in Guelph, Ontario, Canada.