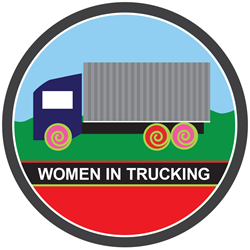 Plover, WI (PRWEB) July 29, 2014
An event, Trucks are for Girls, will be held on October 13, 2014 at Olive Harvey College in Chicago, IL. The girls, ages seven to twelve, will have an incredible experience learning about the trucking industry. They will get a chance to drive a simulator, climb inside a real "big rig" and learn more about the trucking industry. Best of all, the girls will receive a custom Women In Trucking patch for attending the event.
"Olive-Harvey College is very excited to welcome the Girl Scouts to campus and provide a fun introduction to the field of transportation," said Associate Dean Joanne Ivory. "There are so many excellent opportunities for women in the industry. We hope that the transportation patch will help foster early interest that could evolve into a future career in distribution, logistics, commercial driving, or other rewarding occupations."
"This event is a great way to expose these young women to the importance of the trucking industry on their lives, since everything they have has been transported by a truck," said WIT President/CEO, Ellen Voie. "This is also an opportunity to show the next generation the career opportunities offered by the industry, as there is currently a need for jobs related to the transportation of goods across America."
Volunteers from Olive Harvey College, Navistar and Women In Trucking Association will be assisting at the event. Influential women in the transportation industry will speak about their careers and answer questions from the girls.
The Girl Scout patch will be a regional award, but the Women In Trucking Association's goal is to expand the event to other Girl Scout regions to bring the curriculum to a broader group of Girl Scouts.
Women In Trucking Association, Inc. is a nonprofit association established to encourage the employment of women in the trucking industry, promote their accomplishments and minimize obstacles faced by women working in the trucking industry. Membership is not limited to women, as 16 percent of its members are men who support the mission. Women In Trucking is supported by its members and the generosity of Gold Level Partners: Bendix Commercial Vehicle Systems, Daimler Trucks NA, Great Dane Trailers, and Walmart. Follow WIT on Twitter, Facebook or LinkedIn. For more information, visit http://www.WomenInTrucking.org or call 888-464-9482.