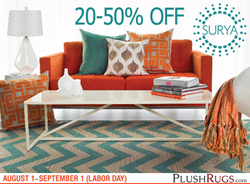 (PRWEB) July 30, 2014
PlushRugs.com and Surya have joined forces for this special Labor Day Promotion, offering e-commerce customers large discounts on all Surya rugs on PlushRugs.com. Plus, all Surya rugs priced at $250 or more will come with free rug pads.
Surya has a diverse selection of area rugs. Surya's wool rugs, found in most styles, are of the highest quality, and carefully hand crafted by skilled artisans.
For Surya's Contemporary Rugs, check out the Forum, Modern Classics, Cosmopolitan, Brocade, Bombay, and Oasis collections.
For Surya's Transitional collections, take a look at the Hudson Park, Athena, Sardinia, and Brentwood collections.
If you favor classic appearances, browse through the Caesar, Timeless, Crowne, and Ancient Treasures collections.
Surya also has a wide variety of Flat Weave, Natural Fiber, and Kids rugs. With Surya there's a rug for everybody's preference.
Surya has ongoing community outreach programs to strengthen education in India, giving 10% of its profits to nonprofit organizations that promote education and healthcare. Surya partners with Akshaya Patra and Project Mala to provide over 7,000 underprivileged children with quality education, nutritious meals, and proper healthcare.
When purchasing a Surya rug you can be assured of 3 things: You are contributing to a business that has a positive impact in the world, you are getting a quality product made with care and expertise, and when you order through PlushRugs.com you are getting a great deal.