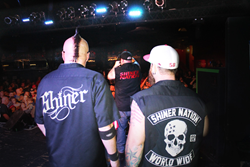 Thank you, MemoryTag! You made all my dreams come true. I had the time of my life!
Sacramento, CA (PRWEB) July 29, 2014
A MemoryTag-sponsored contest resulted in a once-in-a-lifetime experience for Manteca, CA resident, Brian Gray, and his wife, Whisper. Last Thursday at the Ace of Spades in Sacramento, the couple were treated to VIP seats on stage by the MemoryTag team. The best seats in the house included unlimited drinks and the unique experience of taking part in a show with country hip-hop sensation, Moonshine Bandits.
Since the contest rewards from MemoryTag also included two VIP tickets, transportation, lodging, and MemoryTag merchandise, the Shiner Nation couple were more than pleased with the trip. While on stage, Brian became part of the show, singing with the band and getting loose with the packed house. "Thank you, MemoryTag!" he was quick to declare throughout the night. "You made all my dreams come true. I had the time of my life!"
This was not the first successful contest event with the Bandits that MemoryTag has sponsored. Four months ago, in March, another winner was awarded the opportunity to have drinks and hang out with the band. It is a safe bet that MemoryTag and Moonshine Bandits will continue to produce more exciting contests in the future.
Moonshine Bandits have steadily grown in popularity due to their upbeat blend of country and hip-hop. They are making strong waves in multiple Billboard charts simultaneously, including both Country and Rap. Their unique, contagious music speaks to blue collar roots where having a rowdy good time is the evening's top priority.
MemoryTag produces products that allow users to put custom videos on stickers, greeting cards, and other merchandise. Their social media outlets allow followers to participate in daily contests and events that result in exciting prizes. The MemoryTag app is available for free on both iTunes and Google Play.
For those who cannot wait for the next Bandits-related contest, there is a MemoryTag Kickstarter campaign which lists pledge rewards that include: poster cards signed by the band, a Brewery Tour with the Moonshine Bandits, and much more. For more information, visit thememorytag.com/connect