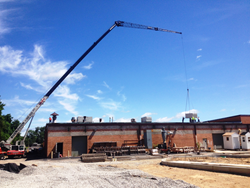 St. Louis, MO (PRWEB) August 01, 2014
Air Masters has completed the first phase of the HVAC Modernization Project for the North County Technical High School for the Special School District of St. Louis County. This phase included 23 new makeup air and air handlers on the roof and five additional makeup air and air handlers inside dedicated to the culinary arts classroom and gymnasium.
The project included several unique challenges. The existing HVAC system was running at the same time the new main HVAC system was being constructed. In addition, each trade shop at the technical school required a specialized design. For example, the welding shop has 3 exhaust fans serving 26 welding booths for welding practice and the diesel shop has a muffler exhaust system built under the floor to exhaust diesel motor fumes indoors.
Phase I was completed August 1, 2014. The entire project will be complete August, 2015.
For more information about Air Masters http://www.airmasters.com or call Lisa Abney with Air Masters at 636.680.2100.
About Air Masters:
Air Masters is a full service team of engineers, project managers, highly skilled workers, and support staff who bring experience, knowledge, and talents to commercial projects. Air Masters' services are a family of companies that will serve your project needs.
Whole building commissioning is their mentality and includes building automation control systems, plumbing services, fire protection installations, and a wide range of HVAC services. Air Masters takes your project from inception to completion and beyond with pride and sincere passion for customer satisfaction.