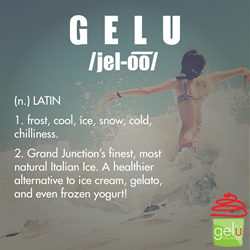 It's the best brain freeze you'll ever have!
Grand Junction, CO (PRWEB) July 29, 2014
Gelu Italian Ice is proud to announce its first birthday. August 1, 2014 will mark the official one-year anniversary for Gelu. The idea for Gelu came in early 2013 from co-founder John Nelson, who comes from New York where Italian Ices, sometimes called water ices, are a popular daily summer treat. Nelson, together with co-founders Ronn and Karin Gookin spent many months purchasing the necessary equipment and perfecting recipes. Carts were purchased and customized to meet all local health department regulations, and the first license was issued August 1, 2013. Gelu is based out of the Business Incubator Center and was recently recognized as one of the Incubator's success stories.
Gelu's initial goal was to expose western Colorado to the deliciousness of Italian Ice and this was done by handing out as many free samples as possible. Customers often ask the Gelu staff if it is gelato or a snow cone. "It's better than a snow cone" is what owner Ronn Gookin will say. Or, "it's the best brain freeze you'll ever have!"
Gelu is Grand Junction's premiere Italian Ice vendor. The company is located in the "banana belt" of Colorado where vineyards and fruit orchards are prevalent. Most of Gelu's flavors are made with real fruit, and local produce is used when possible.
"All of Gelu's ices are dairy free and gluten free which offers a nice choice for those with special dietary needs," Karin Gookin said. "Our ices have bold flavors but are also light and leave you feeling refreshed, not thirsty and full," she stated.
Within their first year, Gelu has seen many changes and many happy customers. What began as one mobile pushcart and a handful flavors is now six carts and a multitude of flavors that change with the seasons. In addition to finding Gelu strolling up and down Main Street in the afternoons, at concerts, sporting events and farmer's markets, they are available for private events and parties as well.
Gelu is excited to celebrate its one-year anniversary and as a thank you to their loyal customers, Gelu will be offering half priced Italian Ices Friday, August 1st on Main Street in downtown Grand Junction from noon to 3p.m. The cart can be found between 3rd and 6th Streets during that time.
A full schedule of events featuring Gelu can be found at http://www.geluice.com. Contact information: Karin Gookin 970-986-9535. Email: info(at)geluice(dot)com.
More About Gelu
Gelu Italian Ice is Grand Junction, Colorado's premium Italian ice vendor. At Gelu we are dedicated to good taste, healthy living and having fun! Our Italian water ice is a perfect mixture of fruit, water and sugar blended into a smooth, refreshing dessert.