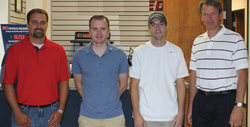 Jackson Systems would like to welcome all of their new team members.
Indianapolis, IN (PRWEB) August 01, 2014
Jackson Systems recently added new members to their quickly growing team.
Kasey Waggoner joins Jackson Systems as an Account Manager. Kasey comes to Jackson Systems from a racing equipment manufacturer and has over twelve years of sales experience. He's excited to be a part of the Jackson Systems team.
Elijah Montgomery has joined Jackson Systems as an Inside Sales Engineer. Elijah previously worked in all aspects of the plumbing industry. His experiences contracting to manufacturing will make him a great asset.
Jack Tester joins the team in production. Jack comes to Jackson Systems after 13 years with Midwest Electric where he was an electrician by trade. Jack grew up in Whiteland, Indiana and graduated from Whiteland High School.
Larry Borthwick is Jackson Systems' new Accounting Manager. Prior to Jackson Systems, Larry worked as a controller for a pest control company. Larry will oversee all Jackson Systems' accounting functions.
Jackson Systems would like to welcome all of their new team members.
###
Jackson Systems is a leading direct-to-contractor HVAC controls manufacturer and distributor. We produce innovative products for the commercial and residential markets. Ease of installation is built into every design, providing the most contractor-friendly products in the industry. Strong technical support and free same-day shipping are the cornerstone of our excellent client service. Jackson Systems is "Controls Done Right."