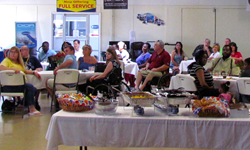 Charlotte, NC (PRWEB) July 29, 2014
Carolina Mobility Sales hosted a summer cookout for a local spinal cord injury support group, Spinergy.org.
Spinergy.org is a nonprofit organization that was created to improve the quality of life for those impacted by a spinal cord injury.
Carolina Mobility Sales partnered with Spinergy.org in the fall of 2012 to help provide transportation to new members by donating rental units once a month and bring new members to Spinergy.org's monthly socials.
"Over the last two years we've had the pleasure of supporting such a wonderful organization," said Jim Branning, owner and president of Carolina Mobility Sales. "Saturday's Cookout was a fun day of meeting and seeing new faces as well as enjoying the camaraderie of friends we've known for years. We look forward to continuing to support this great organization and hosting more events!"
Andy Arnette, co-founder of Spinergy.org, said that "Good food and fellowship was had by all on Saturday."
Located in Charlotte, NC, Carolina Mobility Sales is the premier distributor of the industry's finest wheelchair accessible vehicles, scooter/wheelchair lifts and adaptive driving equipment.