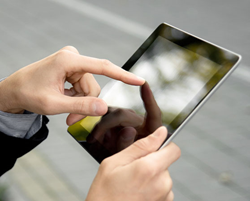 From the start your attention to detail and professionalism came thru and in return my clients are always impressed with what my company can offer them.
Markham Ontario (PRWEB) July 29, 2014
Local businesses have been known to live or die by the search engines. They can receive lots of traffic one month, and then very little the next month. When this happens, business owners are not sure what they have done or even what to do to get that traffic back. Len Doren, Creative Director of In Front Media website design in Markham, has been asked this question many times by local business owners.
Len offers, "From month-to-month, search traffic shouldn't change to any significant degree, unless it's just the time of year (normal business cycle) or, business owners have tried something questionable for SEO to try and boost search traffic." Len goes on to add, "Knowing what is good site promotion and what can get a site penalized, is paramount for a successful online presence today. Sometimes all that is needed is new website content or perhaps a responsive website design."
Usually, when the search engines update their ranking algorithm, it can affect some sites positively and some sites can be negatively affected. As a result, business owners with sites that are negatively affected have been known to hire people to employ questionable schemes to improve their site ranking to try and increase website traffic.
However, most subversive tactics used by site owners are eventually discovered by the search engines and when that happens, they plug the holes in their algorithm. Sometimes, site owners will even get "spanked" by the search engine for trying to circumvent their search guidelines. When that happens, it's almost impossible for some websites to see the light of day ever again.
To stay on the good side of search engines today, consider the following tips:
1) Have a website built to increase traffic and conversions, rather than accumulating of spammy links in hopes of increasing site PageRank. Trying to build/increase PageRank with questionable link-building tactics is not only not the way to go, it can even get a site de-indexed from the search engines.
2) Write content for "human" visitors. If done correctly, the search engines will like it too. Compelling content can facilitate conversions, back-links and returning traffic.
3) Consider a website overhaul if the company website is older than 3 years. Websites with "Responsive" design attributes are warmly accepted by mobile users today and can facilitate more conversions.
4) Social Media should be used to spread the word about a product or service. Stay in touch with prospective customers and be ready to offer a solution to their problems.
5) "Change is as good as a rest". Changing the site page content with new information on a regular basis is a good plan of action. Setting up a blog on the company website and posting new and timely information about the company products and services is also a good idea as well.
IFM Web Services offers Responsive Web Design, website analysis, SEO Press releases, Search Optimization and Facebook pages for businesses. Located in the Toronto area (GTA), IFM has helped business achieve an effective online presence and has helped clients as far away as Bermuda and Mexico. For more on Social Media, SEO or Web Design for businesses, visit IFM at http://www.ifm.ca.